Yucca Extract - 5 Gallon Premium Food Grade - ships 57Lb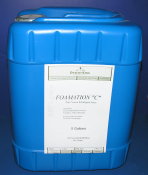 Desert King Yucca Schidigera Extract Foamation "C" (Sodium Benzoate Preservatives, Food Grade), 5 gallon tote pure Yucca Schidigera Extract juice concentrate contains more saponins than any of the capsule products. Yucca saponins were used by Native Americans to improve joint health, relieve inflammation, relieve arthritis, lower cholesterol, stop hair loss, and helps to stop smoking. Mix 1/4 to 1 tsp in a quart of water or a quart of your favorite beverage.
.1% Sodium Benzoate preservative, 10-12% Saponins,
50 brix, light brown in color, bitter / sweet flavor.
This product ships 57 lbs in a 14x14x14 box via FedEx.
Software: ClickCartPro, Copyright 1999-2018 Kryptronic, Inc. Exec Time: 0.105006 Seconds Memory Usage: 4.761024 Megabytes