Yucca Extract - 5 Gallon Without Preservatives - ships 57Lb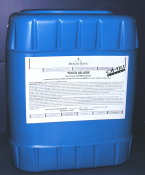 Desert King Yucca Schidigera Extract Ag Aide OMRI (Organic, no preservatives, Food Grade) 5 Gallon tote,
10-12% Saponins,
50 brix,
light brown in color,
bitter / sweet flavor.
Human use: take 1/2 to 1 tsp per liter of water or flavored beverage.
This product ships as 57 Lbs in a 14x14x14 box via FedEx.
Software: ClickCartPro, Copyright 1999-2018 Kryptronic, Inc. Exec Time: 0.11083 Seconds Memory Usage: 4.759613 Megabytes