BioVam - 1 Gallon - Shipping 11.25 Lbs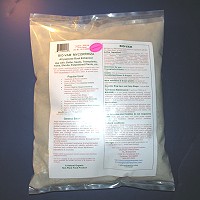 Note: We have inluded 1 free quart (.56 value) of BioVam in each gallon to off set shipping costs.
1-gallon package of BioVam contains 960 teaspoons and will treat:
160 in-ground Roses or Grapes(6 tsp ea),
320 new Roses or Grapes (1 tbs ea),
960 seedlings (1 tsp ea),
or 10,000 sq ft of turf.
BioVam contains ecto and endomycorrhiza, beneficial bacteria, and trichoderma fungi which work together to increase plant root growth and yields. Because of this combination of organisms, all plants are benefited by BioVam.
Shipping 11 lbs Priority Mail Regional Box A.
Software: ClickCartPro, Copyright 1999-2018 Kryptronic, Inc. Exec Time: 0.127414 Seconds Memory Usage: 4.759056 Megabytes