BioVam - 3 Gallon - Shipping 27 Lbs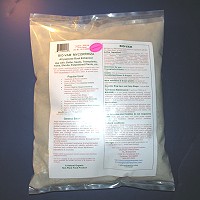 This quantity of BioVam is for growers and high volume purchasers.
Transplants & Bulbs: 2304 at 1 teaspoon each on plant roots.
Seeds: 9,216 at 1/4 teaspoon under each seed.
Established Roses & Grapes: 384 plants at 6 teaspoons each - poke six holes 8-10 inches into root zone close to plant and apply 1 tsp per hole. Cover with soil.
Bare root Rose & Grape plants: 768 plants at 1 tablespoon each - apply directly onto plant roots over planting hole.
Necrotic Ring Spot and Fairy Rings: 12,000 sq. ft.
Turf Grass Maintenance: 24,000 sq. ft.
Shipping: 19 lbs Priority Mail Regional Box B.
Software: ClickCartPro, Copyright 1999-2018 Kryptronic, Inc. Exec Time: 0.099072 Seconds Memory Usage: 4.758759 Megabytes