Jacks Dirt Zeolite 30 Lbs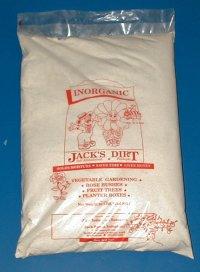 An inexpensive, multi-purpose product which gets truly amazing results! Perfect companion product to BioVam Mycorrhiza. Use Jack's Dirt every time you treat, transplant and plant BioVam treated plants.
Jack's Dirt - Soil Amendment
Holds Moisture - Saves Time - Cuts Costs
This all natural product is a boon to commercial growers and home gardeners alike. It combines many benefits in one easy-to-use soil amendment.
For all your growing and planting needs and situations:
Great for all lawns
For all vegetable gardening
Rose Bushes and all flower gardens
Fruit trees, shade trees, etc.
Planter boxes and all potted plants
Software: ClickCartPro, Copyright 1999-2018 Kryptronic, Inc. Exec Time: 0.122201 Seconds Memory Usage: 4.759789 Megabytes