Just Like Sugar 5.85 oz Jar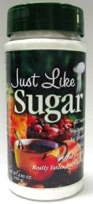 We recommend this Sweetener as a natural safe sweetener for all our customers that consume our Yucca Extract product.

Just Like SugarŪ is a 100% natural FDA GRAS (generally recognized as safe) approved sweetener made from only the purest of ingredients. Just Like SugarŪ mimics the attributes of regular cane or beet sugar in every way without any of the negatives from sugars on the market today.

Just Like SugarŪ enhanced composition is a source of Natural Dietary Fiber obtained from Chicory Root and Vitamin C, which should be essential ingredients in everyone's daily diet. Just Like SugarŪ comprises a perfect blend of crystalline Chicory Maltodextrin pure balanced extract, Chicory Root Dietary Fiber, Vitamin C, Calcium and all Natural Flavors.


Software: ClickCartPro, Copyright 1999-2018 Kryptronic, Inc. Exec Time: 0.102677 Seconds Memory Usage: 4.760094 Megabytes