T&J Enterprises
Since 1998
YUCCA SCHIDIGERA EXTRACT - FOOD GRADE WITH PRESERVATIVE OR ORGANIC

Phone: (509)327-7670 (888)769-3878


Site Navigation Menu
Daily doses of Yucca Schidigera extract, Food Grade, with preservative added (Foamation C) or Organic (Ag Aide OMRI) (both made by Desert King International) have many human consumption uses: reduces arthritis, reduces Gout (lowers uric acid), reduces trans fat digestion, reduces carpal tunnel syndrome, reduces cholesterol, restores cartilage, reduces colitis, reduces irritable bowl syndrome, prevents sore muscles, use as a shampoo to stop hair loss and restore hair growth, helps people to stop smoking, detoxifies the intestinal track. Purchase our premium food grade product (Foamation C) which is less bitter tasting and is cold pressed and pasturized with sodium benzoate preservative added.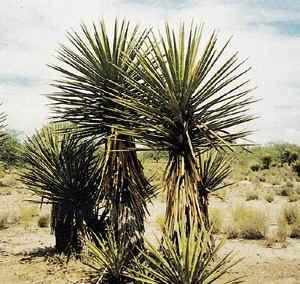 Yucca Plant
There are several different species of yucca trees and shrubs found mostly in the deserts of North America. Yucca Schidigera (Mohave yucca), the most commercial use variety, has stiff, evergreen sword-shaped leaves on a trunk. A flower-head grows up in the center of the plant with white or greenish flowers. Yucca Schidigera, harvested as wild plants under controlled conditions in Mexico, by Desert King International, is supplied to us from San Diego, California.
1 Pint Yucca Extract premium food grade $19.54
1 Quart Yucca Extract premium food grade $30.71
1 Gallon Yucca Extract premium food grade $88.75
5 gallon tote Yucca Extract premium food grade ($70.00 / gal). $378.75
55 gallon drum Yucca Extract premium food grade, free shipping within the lower 48 States ($60.00 / gal). $3,300.00
The Yucca Products Below are certified Organic
1 Pint Yucca Extract food grade without preservative $19.54
1 Quart Yucca Extract food grade without preservative $30.71
1 Gallon Yucca Extract food grade without preservative $88.75
5 Gallon Tote Yucca Extract food grade without preservative ($70.00 / gal) $378.75
55 gallon drum Yucca Extract No Preservative food grade, free shipping within the lower 48 States ($60.00 / gal). $3,300.00
Just Like Sugar Safe Natural Sweetener $10.65
Food Grade Yucca Schidigera extract has a considerable number of uses. Natural plant saponins address many human maladies. Yucca Schidigera extracts are from a plant in the Lillie family that is native to the Southwestern United States and Mexico. Native Americans have used Yucca for hundreds of years to treat a variety of disorders.
MINERALS: Iron, Magnesium, Manganese, Phosphorus, Selenium and Silicon
VITAMINS: A, B complex, C
Concentration: 50 brix ± 0.5 @ 57º F
Ingredients: 99.9% Yucca Schidigera
pH: 3.9 ± 0.2
Saponin: 10-12%
Preservative: 0.1% Sodium Benzoate
Food Grade: FDA - CFR 172.510, FEMA - 3121
Calories per gram: Fat 9, Carbohydrate 4, Protein 4

Recipes For Consumption of Yucca Extract
One quart of water.
1/4 - 1 tsp. Yucca Extract
1/8 cup lemon juice
Sweeten with Just Like Sugar
1 cup of distilled water
1/4 cup of Oatmeal - Grits - Cream of Wheat etc.
1/4-1 tsp. Yucca Extract
1/4 tsp. of ground cinnamon
Sweeten with Just Like Sugar
8 oz. Orange Juice
10-30 drops Yucca Extract
1/2 - 1 tsp. Baking Soda
1/4 tsp. ground cinnamon
Trans Fats
Research shows that Yucca Extract can interact with Bile and thereby lower cholesterol levels. Bile is essential to solubilize fats (including Trans Fats) and when the Saponin's in Yucca interact with the Bile so it can not be reabsorbed through the intestines, the Trans Fats are also not digested. This seems to also be related to the reduction in Colon Cancer risk. See below.
Carpal Tunnel Syndrome
A customer in California called and said his Carpal Tunnel Syndrome had stopped after he took Yucca Extract for a couple of months. I have Carpal Tunnel Syndrome and I have been taking Yucca for about six months. It didn't occur to me that my Carpal Tunnel Syndrome symptoms had all stopped. I haven't been able to find much research about Yucca solving Carpal Tunnel Syndrome, but we now have at least two people saying that's the case. We are having another known Carpal Tunnel Syndrome sufferer try Yucca Extract and we will post results here in the future. --- TG, Spokane, WA
Reduce Cholesterol
I Put 1/4 tsp of Food Grade Yucca extract in a liter of water and drink 1-4 liters per day for two months. Cholesterol was lowered 113 points to 153. --- TG, Spokane, WA.
Relieve Arthritis
I had arthritis in my lower spine and had a lot of pain and difficulty getting out of a chair. All symptoms are gone. --- TG, Spokane, WA.
I had arthritis in my finger joints and a fair amount of pain. Since I started drinking Yucca each day, the symptoms and pain are gone. --- LG, Spokane, WA.
Relieve Back Cartilage Problems
I was injured in an auto accident and have had many occasions where my back would go out. I would be in pain for weeks and unable to do any work during those occasions. Since I have been drinking Yucca mixed with water (1/4 tsp. per liter), my back has not gone out once. --- LG, Spokane, WA.
Relieve Sore Muscles
I found that after I had taken Yucca for at least 10 days that after strenuous physical activity, my muscles were not sore the next day. I put this to a rigorous test by dusting off my bar bell weight set and worked through a number of exercises. The next day, I had no sore muscles! Yucca evidently keeps lactic acid from building up in muscle tissue. This is a very nice feature. --TG, Spokane, WA
Stop Hair Loss and Restore Hair Growth
I have learned that one cause of hair loss is the accumulation of DHT, a byproduct of testosterone, will accumulate around hair follicles. The first thing that happens is the hair becomes thinner in thickness. As the DHT build up continues, the follicle stops functioning and the hair falls out. I also learned that the saponin's in Yucca Extract will clean the DHT away from the hair follicles. This keeps existing hair from getting thinner and from falling out. This also allows follicles that had stop growing hair to resume their function of growing hair again. Consequently, my receding hair line is filling back in with new hair growth. I have been using pure Yucca Extract as a shampoo. Wet the hair. Apply 2-3 tbs of Yucca Extract and work well into the scalp. Rinse and apply the Yucca Extract again. This time leave the Yucca in your hair for 3-4 minutes before rinsing. Keep your eyes closed because Yucca Extract will sting your eyes. I didn't see the resumed hair growth until about 30 days after I started using Yucca as a shampoo. -TG, Spokane, WA
Benefits of Yucca Extract
Its action takes place mostly in the intestinal tract. It could be considered as an intestinal soap or cleanser - - a wetting agent for intestinal flora. It helps form a protective coating on the intestinal walls. Helps eliminate pathogenic organisms. Destroys deadly viruses. Encourages growth of friendly bacteria. Helps conquer lower grade intestinal infections. Reduces inflammation and swelling. Reduces intestinal symptoms, and disorders. Decreases accumulation and growth of intestinal wastes in the colon. Beneficial in colitis, and diverticulitis. Dissolves out and eliminates intestinal mucus and the wastes on the intestinal lining. Relief of constipation, intermittent diarrhea, intestinal gas. Relief of cramping and abdominal pains; often very rapid relief - - in minutes. Lessens soreness, stiffness and swelling of joints, in some arthritis - - at least those related to intestinal toxicity and putrefaction. Lessening of headaches - - migraine type. An effective treatment for sores, scabs, and skin rashes. Lowering of abnormal cholesterol. This is cholesterol which is part of Bile. By its cortisone-like action it helps offset stresses. Widely used in sanitation plants to accelerate, by the action of its saponin's, the breakdown of organic wastes. For some reason it helps some people to stop smoking. Used as a treatment for digestive and arthritic problems in dogs, horses, before humans. Saponin's have a cleansing action on anything - acting as a detergent, just like a soap. It has a high content of Vitamin A and B complex, vitamins and some Vitamin C. It has a high content of calcium, potassium, phosphorus, iron, manganese and copper. Some report that the Native Americans washed their hair with yucca to fight dandruff and hair loss. It is good for treating Addison's disease. No unpleasant or harmful side effects, but you may have withdrawal symptoms from toxins freed up in your intestinal tract.
Steroidal saponin's may tend to break down the high molecular fats in foods whose absorption contributes to high blood pressure, hardening of the arteries, hypertriglyceridemia, and hypercholesterolemia. One of our most significant findings was that no patient taking saponin extract for 6 months or more continued to show an abnormally high blood pressure or excessive blood triglyceride and cholesterol levels. In other words, there were permanent benefits. --- Dr. Robert Bingham, Arthritis News Today, Vol 2, No 6

How Yucca Saponin's reduce cholesterol: Bile acids are made from cholesterol in the liver and gall bladder and pass into the small intestines mixing with water to aid in digestion. As this mixture enters the colon, the water is reabsorbed back into the body carrying with it the bile acids and cholesterol. Saponin's cannot penetrate the intestinal wall, but work within the small and large intestine. Saponin's bind with the bile acids making them unavailable for reabsorption. They pass into the colon and are excreted. This forces the liver to produce more bile. To produce more bile, the liver must remove cholesterol from the blood, leaving less to build up in the arteries.

Keith Johnson, MD, editor of Turn Back the Clock newsletter, states, "Adding the yucca plant to your diet will act as a natural cortisone, and will wash out the harmful poisons that cause arthritis."

Robert Bingham, MD, director of the Desert Hot Springs Medical Clinic in Palm Springs, CA, "We have known for several years that a food supplement extracted from yucca acts like a natural form of cortisone, to reduce and eliminate the pain, swelling and joint stiffness suffered by arthritis victims. Toxic substances or harmful bacteria, when absorbed into the system, create allergic responses - anything from migraine to arthritis. Consequently, an anti-stress agent such as yucca saponin might have the same beneficial effect on wastes in the body and be effective in treating arthritis by improving and protecting the intestinal flora, rather than any direct action upon arthritis. Strong evidence supports the theory that some forms of arthritis may be caused or worsened by toxic substances occurring in the intestines and absorbed by the body. Yucca seems to inhibit these harmful intestinal bacteria and at the same time help the natural and normal forms of bacteria found in the tract.
Dr. Bingham, in the Journal of Applied Nutrition (Vol.27, No.2 and No.3), reported that 60 percent of people who took the yucca supplements experienced diminished pain, swelling, and stiffness. There were no side-effects. Further, those who took the yucca extract supplement had lower blood pressure and cholesterol levels, and relief from intestinal toxicity.

In 1975, Dr. Robert Bingham, director of the National Arthritis Medical Clinic, tested Yucca saponin extract on 149 patients at the California center. Most of the patients later felt less pain, stiffness, and swelling in their joints. Others also received additional benefits, such as, migraine relief, lower blood pressure, and cholesterol/triglyceride reduction. Dr. Bingham believes that the saponin's aid digestion and absorption of fats. They also work as cleansing substances which help prevent absorption of harmful bacteria and protozoa from the bowel that cause the stiffness and inflammation in the joints, he says. These compounds also appear to improve circulation.

Mary Clarke, Ph.D., of Kansas State University reports that saponin's "serve as natural antibiotics for the plant." And now, "scientists are looking at how they can help humans fight fungal infections, combat microbes and viruses, boost the effectiveness of certain vaccines, and knock out some kinds of tumor cells, particularly lung and blood cancers. They can also lower blood cholesterol thereby reducing heart disease.
"One of the most exciting prospects for saponin's are how they appear to inhibit or kill cancer cells. They may also be able to do it without killing normal cells...(Ed. note: no side effects with yucca have been observed.) While drugs have side effects, many of them serious, saponin's are safe."

According to an article written by Dr. Arnold Pike in 1990 (The Healing Properties of Yucca, Let's Live, Aug.1990), there were at that time more than 100 universities and institutions around the world investigating the natural healing properties of yucca. Native Americans of the Southwest used yucca as shampoo, to treat wounds and sores, as well as symptoms of arthritis and rheumatism. Yucca has been on the GRAS (Generally Recognized as Safe) list with the US FDA since 1965 (It is also used as a flavoring and foaming agent in food and beverages).
Yucca will act to reduce your intestinal tract toxicity:
Yucca contains natural phytosaponin (acts like a detergent or soap, but is not toxic) that dissolves body wastes and toxins in the intestinal tract - transforming them into a solution so they can then be readily eliminated from the intestinal system. Most people do not report any reactions or discomforts to those dissolved body wastes and toxins, but some will experience discomfort until the wastes can be eliminated from the body. For people that do react, discomfort can vary from mild to significant from the dissolved body wastes and toxins being partially reabsorbed back into the body. However, this is generally short lived as the dissolved body wastes and toxins are eliminated from the body in 3-4 days. If a severe reaction is experienced from the dissolved body wastes and toxins stop taking the Yucca for 2-3 days, then resume taking Yucca Extract at 50% reduce rate. It will take longer for you to wash out the wastes from your intestinal tract with a reduced Yucca consumption, but the reaction to the dissolved body wastes and toxins should be reduced. Discomforts experienced vary a lot from person to person because of the differences in the build up of toxins and body wastes in each person's intestinal tract and how much of those your body reabsorbs. The build up of body wastes and toxins has taken years and when the phytosaponin in Yucca free up those wastes and toxins any discomfort you may experience is not from the Yucca Extract, but from the wastes and toxins that have been dissolved and partially reabsorbed back into your system in the process of elimination.
SAPONIN'S
RESEARCH INFORMATION
DESCRIPTION OF SAPONIN'S
Saponin's are glycoside compounds often referred to as a "natural detergent" because of their foamy texture. Saponin's are in a diverse group to glycosides. Saponin's are mainly of the triterpenoidal type, being the oleanolic acid and the hedagenin the main constituents. SAPONIN CHEMISTRY: Saponin's are glycosidic compounds composed of a steroid (c-27) or triterpenoid (C30) saponin nucleus with one or more carbohydrate branches.
The proposed mechanism of anticarcinogenic properties of saponin's include antioxidant effect, direct and select cytotoxicity of cancer cells, immune-modulation, acid and neutral sterol metabolism and regulation of cell proliferation. Among the chemical properties of saponin's, their polarity, hydrophobicity and nature of the reactive groups seem important determinants of their biological properties.
HEALTH BENEFITS OF SAPONIN'S
SAPONIN'S INHIBITS GROWTH OF CANCER CELLS
Recent studies at University of Toronto, Department of Nutritional Science, Toronto, Ontario, Canada have indicated that dietary sources of saponin's offer preferential chemo preventive strategy in lowering the risk of human cancers.
One of the most exciting prospects for saponin's is how they appear to inhibit or kill cancer cells. They may also be able to do it without killing normal cells in the process that is the mode of present cancer-fighting drugs. Cancer cells have more cholesterol-type compounds in their membranes than normal cells. saponin's can bind cholesterol and thus interfere with cell growth and division. While drugs have side effect, many of them serious, saponin's are safe.
Dr. A.V. Rao, professor and researcher at the University of Toronto and his colleagues believe the saponin's may even help prevent colon cancer. Normally, bile acid pours into the stomach to help absorb fats from foods. Some bacteria in the large intestine turn the bile into a substance that is highly carcinogenic. That is why a high-fat diet increases the risk of colon cancer. Research suggests that when saponin's travel through, they stop the toxic material from forming.
SAPONIN'S AS CHOLESTEROL LOWERING AGENT
Saponin's are widely being researched for cholesterol control. The blood cholesterol-lowering properties of dietary saponin's are of particular interest in human nutrition. One of the most prominent research programs on this subject was that of Dr. Rene Malinow, Oregon Regional Primate Center that demonstrated unequivocally the cholesterol-lowering properties of saponin's. Saponin's cause a depletion of body cholesterol by preventing its reabsorption, this increasing its excretion, in much the same way as other cholesterol-lowering drugs, such as cholestyramine. Saponin have been found to be useful in the treatment for hypercholesterolemia. Saponin's bind with cholesterol so it cannot be re-absorbed into the system and is excreted from the body.
SAPONIN'S AS AN IMMUNE BOOST
Saponin's have long been known to have strong biological activity. When studying the effect that saponin's have on plants, it has been discovered that saponin's are the plants' active immune system. Research looks very promising that the effect from saponin's are indeed being transferred to the human body when ingested.
SAPONIN'S AS A NATURAL ANTIBIOTIC
Saponin's function as a "natural antibiotic" for plants and now scientists are looking at how they can help humans fight fungal infections, combat microbes and viruses, boost the effectiveness of certain vaccines. Their natural tendency toward off microbes may prove to be especially useful for treating those difficult to control fungal and yeast infections.
SAPONINS BOOST ENERGY
As we eliminate toxic buildup we have move vitality, health that in turn relates to more energy.
SAPONIN RESOURCES
Symposium, Brussels, Belgium, September, 1996.
Natural and Applied Science, University of Wisconsin-Green Bay, Wisconsin
National Center for Agricultural Utilization Research, Peoria, Illinois
Saybury laboratory, Norwich, United Kingdom
Linus Paling Institute/Oregon State University
Peter R. Cheeke, Ph.D.
Oklahoma State University, Stillwater, Oklahoma
Oregon Regional Primate Center, published in American Journal of Clinical Nutrition, 1997
European Journal of Clinical Nutrition, 1990
Richard Lipkin, Science News, Vol. 148, 1995
European Journal of Clinical Nutrition, 1990, D. Oakenfull and G. Sidhu
Understand Vitamins and Mineral, 1964 Rodale Press, Page 129
Masai Diet Wards Off Heart Disease, Boris Weintraub, Geographica
Amazing Medicines The Drug Companies Don't Want you to Discover, University Medical Research Publishers, 1993, Page 219
Yucca - The food supplement that helps prevent and treat arthritis and high blood pressure, Shideler Harpe, Arthritis News Today, Vol. 2, No. 6, March 1980
YUCCA & Stop Smoking
Larry Giannou, a customer, shares his Stop Smoking experience
© Copyright 2004 by T & J Enterprises. ALL RIGHTS RESERVED.
At 52 years of age after 25 plus years of smoking a pack a day or more, I quit cold turkey on February 1, 2003. I discovered that what I was taking to help an unrelated problem was also working to overcome the problems of quitting smoking.

It was producing effects conducive to quitting before I realized they were happening and why. Even though I did not intend to quit, the impact these effects were having on my system ultimately made quitting easier, as well as sticking to it. This is a chronicling of the process of that experience.

I was a long term heavy smoker; constant cough, getting sick for one or two week periods over the winter, increasingly short of breath, skin would reek in the sun or when exercising due to "smokers sweat", etc. My health was getting worse by the year. However, few smokers make their decision to quit by explicitly concluding "hey, this is bad for me I should quit!"

In past attempts quitting normally took a prompting of some kind to make the decision, and then the battle began. This time the battle was surprisingly short, mostly fought and over with behind the scenes "before I made the decision".

In early January 2003, I got sick for the second time that winter. It started as a head cold, moving into the chest. Daily, it progressed into what was likely bronchitis - been there, done that through the years and I knew the symptoms.

As I got sicker and my lungs became more congested it became more painful to "take a puff". The more I kept taking puffs, the worse I felt; even a few per day aggravated my lungs big time, making me feel like I was suffocating.

I reached the point where the discomfort of the puffs was greater than the known discomfort of not smoking a few days to a week would be to help clear up the lungs! Fully intending to start up again after my lungs cleared, I stopped. I put my last pack of smokes and lighter on top my microwave, along with the ashtray that held the butt of my last smoke.

I got sick like this many times through the years, and had no reason to think this time would be any different. The withdrawals were always miserable and I would "test puff" daily to see if my lungs still hurt. When that stopped, I started smoking again, even if not fully recovered.

Day three. I realized I was not climbing the walls, nor "test puffing" to see if my lungs still burned. Other than that, everything "seemed" more or less normal and my lungs were starting to clear. I decided to go a few more days.

Day seven. Lungs are much improved and clearing, coughing a little still from the cold. A week had past without one test puff or lighting a cig to burn in the ashtray for the secondhand smoke! Normally I would be smoking by now. I did not feel stressed about it, after all I was "not quitting" just trying to give my lungs a break. Still it struck me as odd I was not climbing the walls struggling with cravings or withdrawals, or fighting with all the "occasions and reasons", I smoked! They were there, but distant and subdued. I decided to let it go a few more days, but it was becoming clear to me what was happening and why.

I wanted to smoke, but my "body craving compulsions and drives" to light up where noticeably and significantly reducing, like something was turning them off or dampening them. I was experiencing a strange disconnect between the psychological callings still there and the dampening effects on my physical cravings. I found myself in the odd place of repeatedly confronting "some situation or favorite occasion that use to make me strongly crave and light up", only to find the cravings greatly reduced! I was feeling in control of it, instead of controlled by it. This was something new!

With each passing day, I felt more in control and able to ignore my psychological callings because of reduced body cravings, withdrawals, and a much calmer system. Exactly what I always had trouble with in past. The more I realized I was regaining control, the more I choose to move towards it instead of back to smoking.

About 6 months before this I started taking 2 teaspoons per day Yucca Schidigera extract for a bad back I have had for years. (Multiple low back bulging disks, low back pain and in the legs). Yuccas' anti-inflammatory and cartridge regenerative properties were working exceptionally well at reducing my "back-going-out-episodes" from 3 to 5 per year, to just once in two years. My low back pain has reduced to where I stopped taking Ibuprofen and Advil type pain pills for it. Yuccas natural anti-inflammatory properties were working better than those pills, without their side effects from continuous use. However, Yucca has many other beneficial properties.

I was taking it for my back but also clearly benefiting from its ability to detoxify my body and calm and sooth my system, dampening my body cravings for those poisons. Unlike patches and gums that put toxins back into you then "step you down" in stages (a euphemism that the body needs to be detoxified). Yucca Schidigera was continuously removing toxins from my body and calming my system "well before" I had actually stopped smoking. Moreover, once I stopped that process became even more noticeable.

Before I got sick, I was smoking under a pack a day. Normally I was fighting to stay under 2 packs! The smoker's perspiration odor had also significantly reduced. Normally when exercising the smell would be awful - now barely detectable. These were clear indicators of what was happening, and at a certain point, my body made me aware of them, as "it" tried to move me towards quitting.

Day ten. I have gone this long I may as well let it ride and see if this really works; that was my decision to quit.

Day 14. By now I knew this was working and I was not only going to be smoke free but was! I was feeling much better, had more energy, and was seeing 14 days of pack-a-day money in my pocket for a change. I felt like all the various struggle point aspects of stopping smoking were like a rapidly dimming light bulb, and I was in control of the dimmer. I was also not on any phony time schedule pressure to be smoke free. Every ones body is different. For me it was more an issue of detoxification and calming the system. From first taking Yucca to this point was about 6 months. From last cig to here: 14 days! Listen to your body; it is your guide, not the calendar.

It was months before the smoker's cough ended, and smells and tastes returned I had not noticed in years. The longer I took Yucca the less appealing was the smell of smoke, one of the reasons I smoked. Now a good whiff makes me feel crappy. I have zero desire to smoke and no conflict over not lighting up.

I still had to "make the decision to quit" and do what is necessary to follow through. However, compared to other times I quit or tried this was significantly easier. I was not exactly sweating bullets over it.

I still had to address the physiological aspects associated with why I smoked. Smoking twenty-five years can deeply ingrain them. Even so, without my high body toxin levels fighting against my every effort, and a much calmer system I was surprised at how much easier my reasons, excuses and rationalized crutches were to deal with. I was in control of making the decisions, not the poisons from my smoking or my body's' desire for them. Yucca helped me regain control of my body, making quitting easier. It was the only variable here, the only thing that was different.

I still had to deal with exposure to others close to me who smoked. However, I am not the one smoking, they are. It is not my problem. All I can do is make them a gift of Yucca Schidigera and hope they use it.

Even with these issues, quitting smoking this time in comparison was straightforward, easier, decisive and final. Yucca may be one of the least know methods of quitting, but my experience has convinced me it is one of the most highly effective.

Cleaning one day I picked up those smokes that sat on the microwave for 6 months and tossed them into the garbage without a second thought. A test of will I had no trouble winning. That tells me Yucca Schidigera extract not only helped me quit, but to stay a non-smoker. It is now a non-issue.

I took between one to two teaspoons Yucca per day total. (Two worked best for me because of my back). At one teaspoon per day consumption, a quart will last about 6 months. Take at meals and through the day adding 5 to 10 drops per 8oz of liquid every time you drink liquids. I think it is important to keep it entering your system through out the day. Take daily for one to three months before you stop smoking, through the period you are actively stopping, and after since there are a great many health benefits to long term use of Yucca Schidigera extract.
These statements have not been evaluated by the Food and Drug Administration. This product is not intended to diagnose or cure any disease. The information contained herein is for educational purposes only. It is not medical advice and is not intended to replace the advice or attention of health care professionals. It is based on scientific studies (human, animal, or in vitro), clinical experience, or traditional usage as cited. The results reported may not necessarily occur in all individuals. For many of the conditions discussed, treatment with prescription or over-the-counter medication is also available. Consult your doctor, practitioner, and/or pharmacist for any health problem and before using any supplements or before making any changes in prescribed medications.
Distributed by:
T&J Enterprises
2328 W. Providence Ave.
Spokane, WA 99205
Toll Free Phone: 888-769-3878
thomas@tandjenterprises.com

tandjenterprises.com
Product Catalogue

Privacy, Return, Refund Policy

© Copyright 1998 - by T & J Enterprises. ALL RIGHTS RESERVED.