T&J Enterprises
Since 1998
AFFORDABLE ORGANIC GARDENING SUPPLIES
Phone: (509) 327-7670 (888)769-3878


Site Navigation Menu
AFFORDABLE ORGANIC LAWN CARE PROGRAM
Procedure for Organic Lawn care
Signs of a BioVam Treated Lawn
BioVam Grown Lawns and Gardens
Application Schedule for BioVam
Find out why people are switching their lawn care to "BioVam Grown".
New organic products meeting all your growing needs, providing healthier and cleaner ways to grow.
Procedure for Organic Lawn Care
Our procedure for organic lawn care: Core aerate the lawn at least once a year. Mix one quart of BioVam with 20 lbs. of Planters II mineral fertilizer (both are dry products) and use a drop spreader to apply to 2,000 square feet. Apply one 55 lb. bag of Biosol Forte 7-2-1 per 1,000 square feet of turf grass once per year. Mix 1 tbsp. of Yucca Extract with 4 cups of Natures Own Growing System tea concentrate into a one quart hose end sprayer and apply to 1,000 square feet of lawn once per month.
BioVam Mycorrhiza enhances plant root development, plant health, growth and quality through improved nutrient flow – and aids in creating healthy soil conditions. Planters II, as a sea bed product and provides all the minerals in balanced form. Biosol Forte 7-2-1 is a rich, complex slow release organic fertilizer highly suited and needed for sustaining the whole ecosystem. Natures Own Growing System Tea furnishes large quantities of aerobic bacteria and fungi which manufacture the food for the turf from the organic material and minerals in the soils. Yucca Extract aids nutrient uptake into the plant, adds tilth to the soil and serves as additional food for the soil life.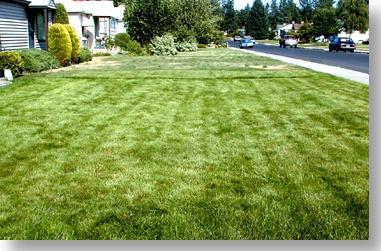 Home lawn of T & J Enterprises. We have yet to capture on camera the richness and spectrum of the natural greens. The effects vary throughout the day depending on the light, and are spectacular! This picture was taken 8-01-99. The weather forecast for the week, mid 90's. BioVam grown lawns just get greener as it gets hotter, while the non-BioVam lawns in the distance, just get browner.
Our BioVam Grown Total Growing System - product goals
Meet the public's demand for pollution free products that work.
Can be applied anytime - Spring, Summer or Fall, on non-frozen ground.
Make growing enjoyable without all the chemical problems, concerns & cares.
Save you money and time on all your lawn and garden projects.
Help eliminate pollution into our foods, soils and waterways from our lawns and gardens.
All of our products are safe to use around pets, children, wildlife and fish and are friendly to our soils, water tables and the foods we grow.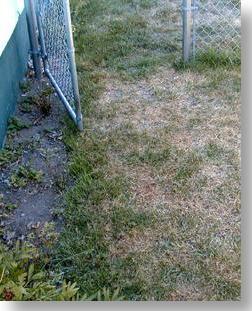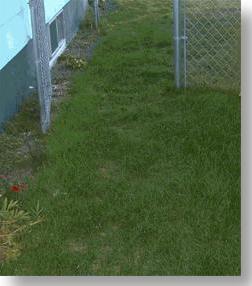 Organic products that perform!
One of the many great features of BioVam Mycorrhiza is how quickly it helps regenerate troubled lawns. The lawn on the top is worn down and stressed from high foot traffic, and is untreated. The second picture is the same lawn three weeks after treatment, with no change in usage.
For all Lawn, Garden & Commercial Growing needs!
Lower cost with unequaled performance!
Our organic products are not seasonally dependent or limited - apply Spring, Summer or Fall on non-frozen ground. Even in winter if your local area remains mild in those months.
BioVam begins working upon root contact.
Organic benefits, qualities and performance that can eliminate 90% to 100% of your chemical use and costs!
BioVam Grown Gardens are naturally healthy and highly productive.
They produce healthier, higher quality, better tasting Fruits & Vegetables! They are naturally more resistant to extremes of cold, heat, disease and pests and produce higher yields longer into the season, whether growing vegetables, fruits or flowers.
Five weeks to a beautiful, naturally healthy green lawn.
BioVam Grown lawns will exhibit health characteristics never seen before. What actually happens with your lawn and gardens, etc., depends upon your lawn and soil conditions and your growing practices, so we can not guarantee all of these results. But if your soil conditions are right, and you follow our application and maintenance instructions you will see these results. Heavy, compact clay soils (75% or more) may inhibit the Mycorrhiza from establishing and spreading in the soil and may slow down these processes.
When our procedure for organic lawn care is used as follows, we have documented a combination of the following results – which can vary from site to site. To maintain these enhanced qualities, treat your lawns yearly with our BioVam Grown Total Growing System, see our BioVam Grown Lawn Care brochure:
Core aerate the lawn at least once a year.
Mix one quart of BioVam with 20 lbs. of Planters II mineral fertilizer (both are dry products) and use a drop spreader to apply to 2,000 square feet.
Apply one 50 lb. bag of Biosol Forte 7-2-1 per 1,000 square feet of turf grass once per year.
Mix 1 cup of Yucca Extract with 3 cups of Natures Own Growing System tea concentrate into a one quart hose end sprayer and apply to 2,000 square feet of lawn and landscape once per month.
Signs of a newly treated BioVam Grown lawn
First week: there is significant greening of the lawn. Natural multi greening, not the dark bland chemical greening.
Second week: new grass shoots start growing in throughout the lawn. Significant reduction of top growth and a lot of new growth. Clippings reduced significantly. Greening continues.
Third week: natural greening dominates, new growth continues at an accelerated rate. Thickening of the lawn occurs. Ground stays moister longer, starts feeling softer to your feet as natural aeration by the Mycorrhiza occurs – worm populations are also increasing, aiding this natural aeration of the lawn root system. Clippings are reduced 60% to 90%.
Fourth week: lawn continues thickening, spreading and acting as above. As the sunlight and shadows shift the natural multi greens of mixed seed lawns take on a brilliant, glowing even fluorescent look pleasing to the eye. Clippings are reduced by 60% to 90%.
Fifth week: Deeper greening and thickening occurs yet clippings stay reduced. As the weeks go by all these characteristics increase.
Signs of established BioVam Grown lawns
Sod depth may increase from its normal couple inches to over a foot with roots extending below 17 inches, depending on your soil conditions.
Weeds like Dandelions do not compete well in established BioVam Grown lawns that has a lot of Mycorrhiza in its root system. Such weeds are put under lots of stress because they are not getting enough nourishment. In BioVam Grown lawns the grass is the dominant plant. As it thickens this process becomes more noticeable. BioVam does not kill weeds.
The ground becomes much softer. The grass takes on a cool, spongy feel to your bare feet – and no longer "pricks" your feet. Due to the increased natural soil aeration from the Mycorrhiza and increased worm activity.
A higher percentage of grass seeds germinate when started with BioVam Mycorrhiza. See our Maintenance brochure for over seeding.
Dog Spot Resistance
-
Established BioVam Grown lawns ( over 2 – 3 months) are resistant to dog urine
11
.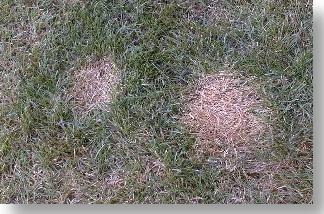 Established BioVam lawns resist browning and dying out from pet urine like they do on normal chemically treated lawns.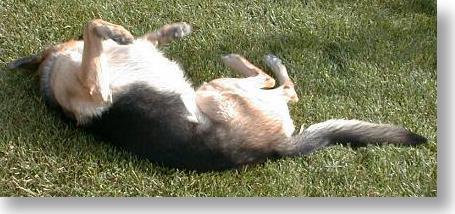 Maybe that is why Snoopy loves her "BioVam Grown" lawn. There actually is "something" about "BioVam Grown" lawns that dogs find enjoyable, as do many of our backyard wildlife friends.
BioVam Grown lawns and gardens
More resistant to environmental extremes and hazards.
Thatch is dramatically reduced in BioVam Grown lawns. The Mycorrhiza Fungi in BioVam and increased worm activity breakdown existing thatches and feed the nutrients to the live grasses. Thatch problems are frequently eliminated in BioVam Grown lawns. With so few clippings we recommend mulch cutting your lawn. Another source of nutrients for your lawn.
New grass shoots are so competitive that moss is displaced and no longer has dominance in BioVam Grown and maintained lawns.
Poor grasses like bent grass take on beautiful colors and are among the best looking grasses. With BioVam Mycorrhiza in action, that grass looks very good!
In lawn areas under heavy shade like at the base of pine trees, growing conditions that often inhibit grass growth, BioVam Mycorrhiza has overcome with plentiful new growth.
Areas with heavy foot traffic have grown in green and thick with no change in the foot traffic. At one site, cars are driven over the lawn and it shows no sign of wear.
Earthworm populations significantly increase. They also help break down the thatch, aerate and enrich the soil which aids the Mycorrhizal process of your BioVam Grown lawn.
Established BioVam Grown lawns (3 to 5 weeks) resist yellowing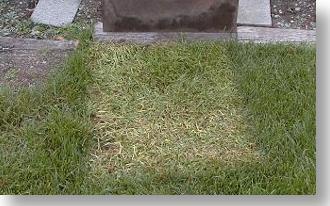 A steel plate was left on both of these lawns for 2.5 days. The front lawn (Below) is BioVam Grown treated lawn. The back lawn (Above) was not.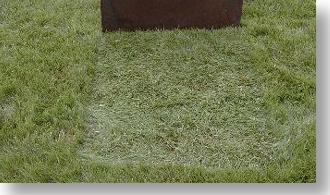 BioVam Grown lawns resists yellowing from hoses and objects left laying on them.
We guarantee the viability, quality and packaged quantity of our products. It is highly probable that superior responses in plant growth, health and yield will occur from their use. Due to the variability of soils and conditions found in various locations and their affects on plant and soil responsiveness to our products, we cannot guarantee all these benefits will occur in all locations and situations.
References
State of California Department of Agriculture
BioVam Mycorrhiza is registered with the California Department of agriculture.
Mycorrhizal Fungi Benefit Putting Greens, by R. Koske, J.N. Gemma, and N. Jackson, Department of Botany and Department of Plant Sciences, University of Rhode Island, Kingston, Rhode Island, Printed in the USGA Green Section November / December 1995.
"Vam endophytes have been extensively documented, and their beneficial effects on growth and development of a range of plant species have been demonstrated." Page 1.
"Results of inoculation were striking. Establishment of young turf was enhanced by inoculation with Mycorrhizal fungi, and differences were apparent within three weeks after seeding. Turfs older by several months continued to grow more vigorously with Mycorrhizae." Page 2.
"A probable result of these benefits may be manifested in an increase in resistance of Mycorrhizal turf to foot traffic…" Page 3.
"In addition to improved growth, Mycorrhizal turf was greener than non-Mycorrhizal turf and possessed up to 60% more chlorophyll." Page 2
"After a five-day drought, Mycorrhizal turf in the field study showed 39% less water stress than did control [non-Mycorrhizal] turf, and after eight days, the difference was 60%." "In the greenhouse study, turf without Mycorrhizae began wilting after three days, but Mycorrhizal plants were wilted only after five days. Mycorrhizal turfs also recovered more rapidly, producing three times as much leaf matter as the controls." Page 2.

"Preliminary trials indicated that Mycorrhizae may provide some protection against the take-all fungus Gaeumannomyces graminis. As noted in the growth trials, however, this benefit was present only when P concentration was moderately low. At higher levels of P, Mycorrhizal turfs tended to be susceptible to take-all." Page 2,3 [T&J Note: Bio-Vam contains Glomus-intraradicies VAM fungi. We have observed Scientific findings "Evolution of arbuscular Mycorrhizal propagules in an ecological culture of asparagus invaded by weeds in Galicia (NW Spain) when P levels were high.

SÁINZ. MARÍA J.

1

, MANUELA BUJÁN

2

, ANA M. CASTELAO

1

& ANTÓN VILARIÑO

3

.

1

Departamento de Producción Vegetal, Universidad de Santiago de Compostela, E-27002 Lugo, SPAIN.

2

Dpto. de Biología Vegetal, Universidad de Santiago de Compostela, E-27002 Lugo, SPAIN.

3

Instituto de Investigaciones Agrobiológicas de Galicia (C.S.I.C.), Apdo. 122, E-15580 Santiago de Compostela, SPAIN." where weeds will invade if P is high and we have seen in our own tests that weeds can not compete when P is kept at low levels.]
More on Resistance to diseases when using BioVam Mycorrhiza which contains Glomus Intraradicies:
Use of Mycorrhiza to alleviate the apple replant disease under orchard conditions.
UTKHEDE, RAJ.
Pacific Agri-Food Research Centre, Agriculture and Agri-Food Canada, P. O. Box 1000, Agassiz, B. C. Canada, V0M 1A0.
Apple replant disease (ARD) suppresses initial growth of young trees and reduces yield of pome fruits. Greenhouse and orchard experiments were conducted to determine the effect of chemical and biological treatments alone and in combinations in ARD soil. The response was measured by increase in shoot growth, plant weight, and fruit yield of apple trees planted in ARD soil. Inoculations of apple seedlings with the mycorrhizal fungus Glomus Intraradices significantly increased their growth in ARD soil under greenhouse conditions. The application of G. Intraradices alone was consistently effective in increasing fruit yield for 3 years under orchard conditions. The application of B. subtilis alone and in combination with G. Intraradices significantly increased fruit yield for 2 years only. There were no significant differences between chemical treatment with metam sodium and the biological treatments with G. Intraradices, B. subtilis and its combinations for fruit yield under orchard conditions. The consistent performance of G. Intraradicies indicates that this Mycorrhiza has the potential to alleviate the ARD under orchard conditions.
Effects of AM on shoot disease development, yield and physiological background.
GERNNS, HEIKE & HENNING VON ALTEN.
Institut für Pflanzenkrankheiten und Pflanzenschutz, Herrenhäuser Str. 2, D-30419 Hannover, GERMANY.
In contrary to increased resistance against root pathogens, AM barley-plants were more susceptible to the shoot pathogen Erysiphe graminis. In spite of a nearly 3-fold higher sporulation rate of the pathogen, AM plants suffered less than non-AM plants in term of ear-yield and yield-index. AM eliminates the positive correlation between disease intensity and yield-loss. This modified disease-yield-relationship indicates that AM can induce tolerance against powdery mildew in barley. Under field and greenhouse conditions the physiological symptoms underlying the AM effects were investigated. Parameters are the carbohydrate and nitrogen metabolism and senescence development, investigated in the different sink and source parts of the plant. Special attention is directed towards the fructan pool. Development of the biotrophic pathogen on barley hindered the filling of fructan pools in the internodia of the plants. In AM plants the carbohydrate allocation an reallocation were less disturbed. In spite of the increased pathogen activity AM plants were able to accumulate higher amounts of stored stem reserves than non-AM plants. Better filling of this long-time storage pools and a good utilisation of these stem reserves during grain filling can be base of a better compensation of pathogen attack in tolerant plants.

Replicated and independent observations and findings of T&J Enterprises, Spokane Washington, 1998, using BioVam Biotic Mycorrhiza Inoculant containing Glomus Intraradicies.
Many of our findings have not been reported in recent scientific journals and are original in our own tests, in a variety of growing situations and conditions.
The roots of grasses and Raspberry and Strawberry plants extended deeper into the ground because of the effects of BioVam Mycorrhiza and that the earthworm habitat, which is tied to where those plant roots are located, was also extended deeper into the soil. The populations of earthworms have greatly increased and there is a noticeable increase in the surface activity as the earth worm population comes to the surface to glean organic material and breed. On lawns where the grass is thick the worm activity is the same, it just can not be seen due to the thickness of the grass.

Dandelions, which were in those lawns, are stressed for nutrients and as winter has set in, the stress is even higher on those weeds. The earthworms are consuming the dandelions, which are under great stress due to lack of nutrients. As long as the soluble Phosphorus levels are kept low, the weeds that are not benefited by Mycorrhiza are not getting enough nutrients and can not compete with the grasses. There are research papers in scientific journals that show this effect on weeds can be reversed if levels of phosphorus are raised. When levels of (soluble) Phosphorus are raised above 1% there are several scientific studies that illustrate the benefits of Mycorrhiza are deterred. 2% slow release (organic), such as Biosol Forte 7-2-1 organic is fine.

Bent grasses, which invade most of the older established lawns, are doing very well with Mycorrhiza inoculants containing Glomus Intraradicies. Bent grasses are considered by many to be a lawn pest because it does not do very well in most lawns. As the temperatures rise, the bent grasses will often dry out and leave large bare areas in the turf. When Mycorrhiza inoculants are added to bent grasses, those grasses are greener, withstand drought, diseases and insects, and have green shoots all up and down the stem instead of just a tassel at the end of the stems. The work by Dr. R.E. Koske and others at the university of Rhode Island with bent grasses also supports our findings… see the notes above.

When Mycorrhiza inoculants containing Glomus Intraradicies are applied to turf grasses, the turf becomes resistant to being killed and browned by dog urine. We noticed that within the first month of inoculation that dog urine did kill the turf, but within three weeks the area killed had been overgrown with new grass shoots as a result of the Mycorrhiza acting in that turf. After two months, the turf had been well saturated with Mycorrhiza fungi and dog urine had no affect upon the turf the remainder of that season.

At least one person with a severe allergy to grass (verified by allergists medical findings) had no reaction to turf grasses treated with Mycorrhiza Inoculant (BioVam) containing Glomus Intraradicies fungi. Previously, that particular person would break out in hives soon after coming in contact with turf grasses. There was no sign of any reaction after being on the turf grass for several hours.

Dogs react to turf grasses that have been treated with Mycorrhiza Inoculants (BioVam) containing Glomus Intraradicies. This peculiar affect applies to a variety of different breeds of dogs. The dog will sniff the grass and then will turn over on its back and roll all over the grass on its back. It will then get up and go to another location and do the same thing again. We have observed as many as six repetitions of this behavior in dogs on grass treated with Bio-Vam Mycorrhiza inoculants. We suspect this behavior may be connected to a factor, which also influenced the person with the severe allergy to lawns as noted above. We have observed that when one lays upon a lawn treated with Mycorrhiza Inoculants (BioVam) and has a lot of skin area in contact with the turf, there is no itching of the skin. We think some sort of chemical was given off by the turf grasses to protect itself from being damaged. We have evidence to indicate turf grasses that are covered for three days will not yellow and so we are suspecting that no antigen is being released by the turf grasses to ward off animals that might damage the turf.

When Mycorrhiza is applied to Aspen trees and to Rose plants that any mildew or fungus present upon those plants will not spread to any new growth that comes in after the application of the Mycorrhiza Inoculants. We have also noticed that the fungus and mildew does not spread to leaves, which were uninfected at the time of the Mycorrhiza Inoculation. We also suspect, based upon observations made in many scientific findings including the one by Dr. R.E. Koske et al above, that this resistance of the plant to mildew and fungus diseases will be in effect as long as phosphorus levels are low. When (soluble) phosphorus is raised above 1% other scientific studies show that the disease resistance effect brought on by the Mycorrhiza fungi in the roots of the plant through higher plant health is then deterred.

When Mycorrhiza is applied to turf grasses there is a tremendous amount of new growth in grass shoots that continues for the entire growing season until the grass goes dormant. We estimate this new growth to be close to 100% of the existing turf… perhaps more. We see this new growth happen in areas of shade where grass was very sparse and in areas of direct sunlight. We have observed the new growth appear in the midst of moss patches and will lift the moss right off the ground. We have also seen the new growth take place in dead areas of Ferry rings. We are testing the effects of Mycorrhiza with necrotic rings and have yet to have anything to report… just not enough time to observe any effects. We will be reporting more on our Ferry Ring observations in the Spring of 1999. Even though we have observed a significant increase in new grass shoots, we have observed a decrease in the grass clipping volume for 60 to 90% fewer clippings when the turf is mowed. We were able to get a 60% reduction after watering the turf for several hours. Before that heavy watering the reduction was around 90%. Once site of 7,000 square feet of turf had a reduction in clippings from 10 lawnmower catcher bags to less than one after waiting two weeks after the first mowing after the Mycorrhiza was applied. The first mowing, one week after the Mycorrhiza was applied resulted in three lawnmower catcher bags instead of 10.
Product Catalogue
Privacy, Return, Refund Policy
© Copyright 1998 - by T & J Enterprises. ALL RIGHTS RESERVED.