T&J Enterprises
Since 1998
AFFORDABLE ORGANIC GARDENING SUPPLIES

Phone: (509)327-7670 (888)769-3878


Site Navigation Menu
BioVam Treated Cactus Plant
The results depicted here are easily achived by using our Organic Garden Kit: BioVam, Microbe Tea Brewing Kits, BioMinerals, and Yucca Schidigera Extract.
Many potted plants outgrow their pots and their health and performance are less than optimal. This particular cactus had not bloomed in years according to my wife. So, it seemed like a good candidate to repot into our Potting Soil Blend and to inoculate with BioVam Mycorrhiza.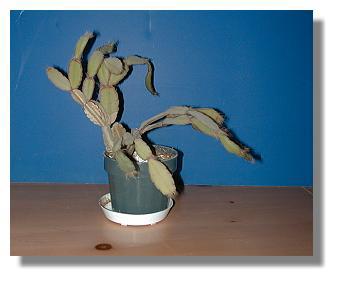 This picture, taken 1-4-2000, shows the original plant. The soil was totally dry. The plant had not bloomed in years. It's color was a yellowish green. I don't know what was keeping this plant alive... must have been its ability to survive in arid environments.
My wife said it had not bloomed in years. From what I could observe, the plant was doing little more than trying to survive in a root bound environment without much water.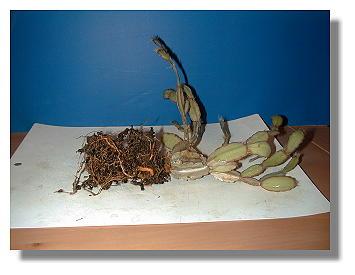 The first step was to remove most of the old potting soil and wash off the plant.
There may be a better way to prepare this plant, but I figured this might be a typical process that a lot of people would try. It would make a good test just to see if the plant could survive my abuse of its root system.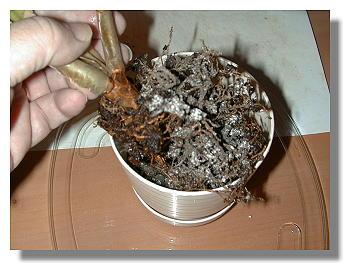 The next step was to put an inch or two of our Potting Soil Blend in the bottom of a slightly larger pot and then put 1/2 teaspoon of BioVam Mycorrhiza on the wet roots of the plant.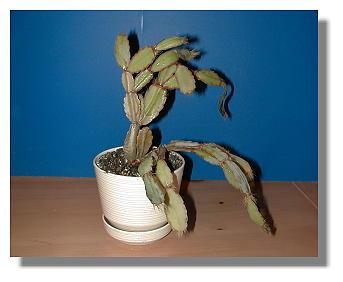 And so here we are with the Cactus in its new pot with our moistened
Potting Soil Blend
and with BioVam mycorrhiza on its roots.
We will add more pictures to show you the progress or demise of our Cactus plant. Time will tell... check back often to see additional pictures.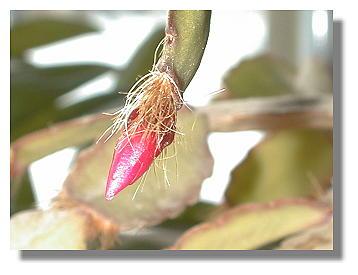 This picture, taken on 01-12-2000, shows the first bloom on this cactus in over three years. Evidently the Cactus has started into a positive response to this new mix of potting soil and BioVam Biotic on its roots. I also noticed that the end segments on each branch have gotten a lot greener on this plant. It's a positive indication of improved plant health.
Some would argue that 8 days isn't enough time to fully colonize the roots of this plant. That may be true, but benefits certainly start up at some point after colonization starts up. Keep checking back here for more pictures in the future.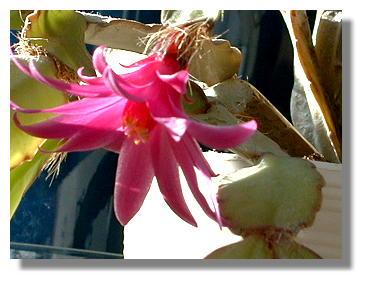 Here's what we have been waiting for... this picture taken on 2/1/2000 shows that bud above in full bloom. A second bud has also formed on this cactus plant. This plant had been repotted in the past but no blooms formed. When we treated the plant with BioVam, it didn't take long for the plant to show these beautiful colors.
Product Catalogue

Privacy, Return, Refund Policy

© Copyright 1998 - by T & J Enterprises. ALL RIGHTS RESERVED.