T&J Enterprises
Since 1998
AFFORDABLE ORGANIC GARDENING SUPPLIES

Phone: (509)327-7670 (888)769-3878


Site Navigation Menu
BioVam Grown Early Girl Tomato
The Early Girl tomato was the best tasting tomato out of my garden in the 2001 growing season. I selected 9 different varieties of tomatoes to grow this year. They were common varieties of tomatoes found in the stores and nurseries located in Spokane, Washington. We are in a rather cool growing zone 4.5-5 with a short growing season. Most of the varieties I had not grown before and all were quite flavorful in their own way, but the Early Girl tomato was significantly out in front of the other varieties in terms of "eat me appeal."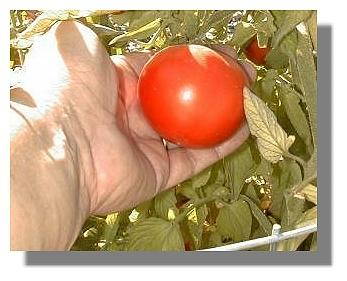 The Early Girl Tomato plant produced round fruit of medium size that were red and smooth skinned. September 25, 2001 Click on picture to enlarge. The tomato skin was firm and tender. The color and size was fairly uniform. None of the fruit formed any cracks. This variety is an indeterminate hybrid and produced ripened fruit from mid July through the end of the season in September.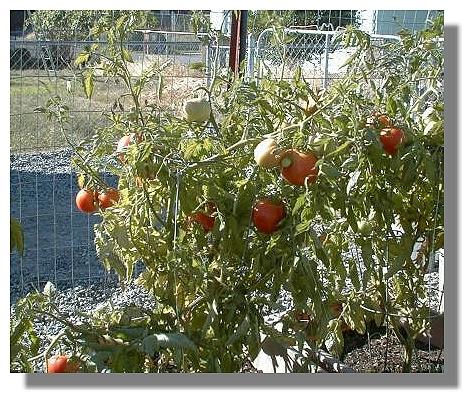 Early Girl Tomato - September 25, 2001 - Click on picture to enlarge
I grew all my tomato plants in 18 gallon plastic tubs this year. I purchased common potting soil and added the following natural organic fertilizers and minerals to that soil in my cement mixer: Biosol 6-1-3 general purpose organic fertilizer, microbe rich black peat, Planters II mineral fertilizer (another organic product), Rock Phosphate, Granulated mined Gypsum, and some zeolite. When I planted the tomatoes, one to each 10 gallon tub, I put 1 teaspoon of BioVam Mycorrhiza (another Organic product) directly upon the moistened roots of the plants. The ecosystem of microbes in BioVam combined with a natural community of microbes from the Black Peat, provided the work force of soil life to transform the nutrients and feed my plants. biosol forte 7-2-1 general purpose fertilizer provided the only NPK additive. The potting soil served mainly as bulk material to hold the nutrients in place. The rest of the additives were basically minerals except for the zeolite, which served as a cation exchanger for nutrients which were released by the action of the water and microbes on the minerals and Biosol.
All my plants grew to be healthy in their tub gardens. Most of the plants produced 50+ tomatoes each. The Early Girl plant was one of the 50+ producers. I watered the plants via a drip line using drippers that put out 1 gallon of water per hour. My tub garden had no weeds, no diseases, no ground to till, no manure, no compost, just real basic stuff that grew a lot of very tasty tomatoes in a soil made alive with BioVam and the dormant microbes in the black peat. I also grew Peppers, Zucchini, Strawberries, and onions in those tubs. Everything had good flavor and high yields. Here's a URL that talks about my container gardening methods: Container Gardening.
The late spring weather was cool this year, but the tubs warmed up in the sunshine and solved the problem of lingering cold soils. The warm soil combined with a "Living Soil system" which was sustained all season long with a great selection of nutrients. This system sustained the vigor of my plants from Spring to Fall and then on into the winter inside my home.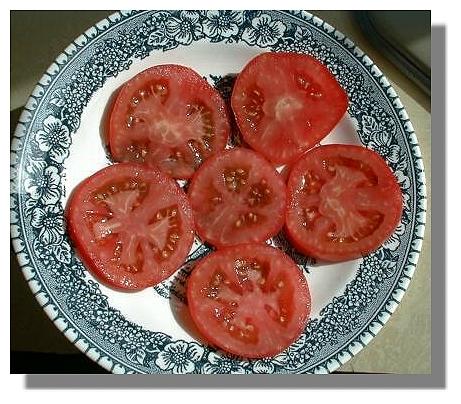 Click on picture to enlarge
The Early Girl Tomatoes were juicy, but not overly so. There was a good balance of sweetness with acid in the juice. They had a moist / meaty texture that was just right... not mushy, not hard or tough, but tender with body. These Early Girl tomatoes provided a focused long lasting starburst of flavor that compelled one to want even more of this tomato every time I ate one. The flesh was sweet, but the sugars were balanced just right with the acid and mineral content. This tomato had a cleansing effect upon the pallet. It had a remarkable freshness about it. Some tomato varieties taste better when you put salt and pepper on the slices. Rather than enhance the Early Girl's flavor, salt and pepper seemed to get in the way of the flavor.
The aroma was brisk and the taste was light and sweet and lingered for several seconds after you had swallowed the portion you were eating. The flavor could also be described as sweet and tangy caused by the plant produced nutrients and the minerals taken up from the soil. The taste of tomatoes has a close connection to what you feed them.
The Early Girl tomato had an addictive affect. As soon as you ate one, you had a strong desire for another. If you put one of these tomatoes in a salad, the flavor of the tomato was even more noticeable. The flavor stood out in the salad and compelled you to eat the tomato first. Everything else in the salad became incidental by comparison. If you could stock these in the stores at this level of quality, there would be a rush by the public and they would soon be gone. Most of the Early Girl's never made it to a salad. They were picked, immediately brought into the house, sliced and eaten. One tomato would fill a plate with slices and if you ate two or three of these tomatoes in a sitting, you felt guilty for not sharing this wonderful fruit with someone special in your life. That's another way of saying, "I got to them before my wife did."
The neighbors grew tomatoes in their gardens, but they didn't have plants that produced like these. All the neighbors eventually visited and I took them on my taste tour. We would have sweet 100's, some fresh grapes, some red raspberries and some fall gold raspberries. I'd give them a plastic bag with a grape cluster or two, three or four tomatoes and a pepper or two.
Next year, the Early Girl Tomato will again be in my garden. Three or four plants will do just fine to supply us with a rich flavored abundance.
Here's what others have to say about Early Girl Tomatoes:
The Sacramental Bee Newspaper published an excellent article on the history of the Early Girl Tomato. I've contacted them to obtain a copy of that article. Click here for that important historical article.
Gardening in Western Washington, Presented by WSU Cooperative Extension:
Early Girl--Indet. Hybrid. Very early, red salad tomato. Consistently does well in taste tests. Probably the most widely grown tomato in the Puget Sound area.
Ed Hume Seeds:
Outstanding early variety of tomato for short season gardens. Proven, dependable, tasty uniform 4 to 5 ounce tomatoes. Excellent for home gardens (24 seeds approximately). Early Girl is an indeterminate variety (tall growing) so provide some support as plants grow. Approximately 62 days to maturity from transplanting.
Plant in full sun. If possible, plant against a south or west wall or fence, where sun reflection will provide additional heat. Black plastic at base of plants or a tire placed on the soil around each plant also will provide heat for earlier ripening. Tomatoes prefer rich soil kept moderately moist. Fertilize monthly if necessary and avoid spraying foliage when watering.
Product Catalogue

Privacy, Return, Refund Policy

© Copyright 1998 - by T & J Enterprises. ALL RIGHTS RESERVED.