Example of rapid drought recovery in BioVam treated Eggplants




Note: All plants treated with BioVam and our BioMinerals fertilizer product will exhibit drought recovery capabilities as described in this exhibit for Eggplants.
Here in zone 5, it's difficult to get eggplants to mature, so I planted four eggplants in a 14 inch pot and set them out in the sun on the concrete entrance to our home. These were planted about the middle of June and the pictures below were taken in the middle of July. The plants grew quickly to the size shown in about one month. I've never been able to grow this size egg plant in our soils... much too cold where I live. These set quite a few fruit and we enjoyed a variety of eggplant recipes.
The pictures below illustrate how well BioVam treated plants recover from drought stress. The four egg plants were allowed to dry out for a few days and you can see the result with rather droopy looking leaves on the plants below. Usually, plants will not recover from that condition, but BioVam treated plants have larger xylem vessels present and they can recover quite quickly because of a much better developed internal plumbing system that carries water and nutrients up from the roots.
Two hours after applying water to that droopy group of egg plants, they looked like that picture below the droopy leaves picture. This is a good example of speedy recovery from drought conditions. We did this four times with those eggplants and they recovered equally well all four times. There was no blossom drop and the plants went on to produce nice large eggplant fruits.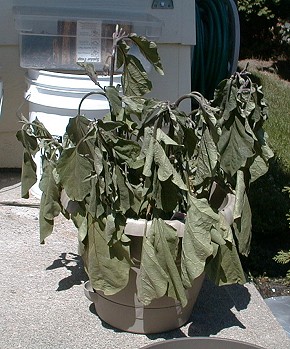 It took 3-4 days without water to get this eggplant to wilt down as shown in the above picture. Most plants will not recover from this level of wilting.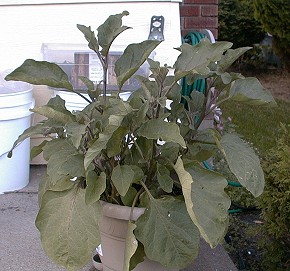 After watering the plants on the left, 2 hours later, the plants are fully recovered. This experiment was repeated four times with the same results.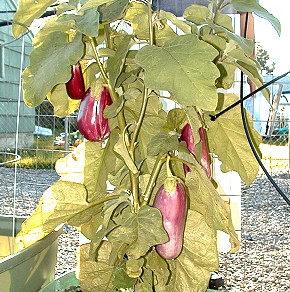 BioVam treated Eggplant grown in a container of potting soil amended with BioMinerals fertilizer. 9-26-2004 Flash Photo.
Product Catalogue

Privacy, Return, Refund Policy

© Copyright 1998 - by T & J Enterprises. ALL RIGHTS RESERVED.