T&J Enterprises
Since 1998
AFFORDABLE ORGANIC GARDENING SUPPLIES

Phone: (509)327-7670 (888)769-3878


Site Navigation Menu
Jack's Dirt
Soil Amendment

-

Feldspar (Zeolite)
30 pounds for $22.94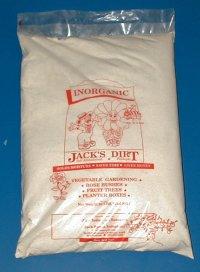 Net Weight 30 LBS. (13.6 KG.)
VEGETABLE GARDENING
ROSE BUSHES
FRUIT TREES
PLANTER BOXES
Holds Moisture - Saves Time - Saves Money
This all-natural product is a boon to commercial growers and home gardeners alike. It combines many benefits in one easy-to-use soil amendment.
SANDY-LOAMY-CLAY-TYPE SOIL
When mixed in volume with these soils, it opens them up, allowing its particles to get down into the soil and keep it open, thus promoting good aeration and biological enzymatic action and allowing the plant to build a more complex root structure, particularly the smaller capillaries that can not penetrate a tight soil.
SAVES TIME - CUTS COSTS
Reducing the amount of water needed and the frequency of fertilizing saves time and cuts costs significantly.
OFFERS MOISTURE CONTROL
Another plus is the fact that the silica content acts as a moisture control, absorbing water applied during irrigation, and releasing it gradually to the root system as the moisture is needed by the plant.
MULTIPLE BENEFITS - LOW COSTS
An inexpensive, multi-purpose product which gets truly amazing results.
WHEN TO USE:
Two or three times a year On your lawn and plants.
How To Apply
Jack's Dirt
Use a spreading machine; set gap by experimenting for full cover.
May be scattered by hand.
Suggested amount:
30LBS. (13.6 kg.) Covers 1,500 SQ., Feet
50 LBS. (22.7 KG.) Covers 2,000-2,500 SQ. Feet
FOR VEGETABLE GARDENS:
Use a trowel or spade, mix product thoroughly with soil
To depth of around 6 inches, then make furrows.
Large areas, of course, use rototiller
Or similar machine.
FOR POTTED PLANTS:
Work product into the potting material 1 or 2 inches
Deep. First time you use it, water plant until
Excess drains away. Suggested amounts for use:
6" Pot 1/2 Cup
10" Pot 1 Cup
16" Pot 1 1/2 Cups
WATER SAVER
HOLDS MOISTURE
Distributed By:
T&J Enterprises
2328 W. Providence Ave.
Spokane, WA 99205
Product Catalogue

Privacy, Return, Refund Policy

© Copyright 1998 - by T & J Enterprises. ALL RIGHTS RESERVED.