T&J Enterprises
Since 1998
AFFORDABLE JUST LIKE SUGAR PRODUCTS

Phone: (509)327-7670 (888)769-3878


Site Navigation Menu
Just Like Sugar - Natural Sweetener - Table Top Sugar Substitute - Diabetic Safe, A Natural Sweetener without harmful effects! or calories!

It Tastes Just Like Sugar!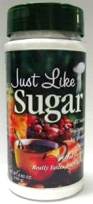 165g (5.82oz) bottle
Price: $6.99

100 Packets
Price: $10.99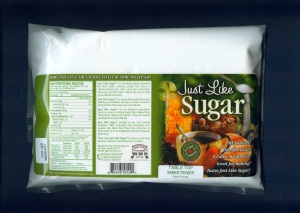 1 Lb Just Like Sugar - Table Top
Price $19.00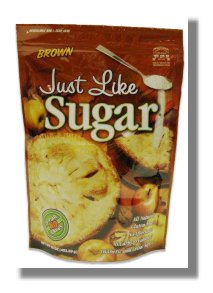 1 Lb Just Like Sugar - Brown Sugar
Price $21.00
78 Reasons to use
Just Like Sugar
We recommend this Sweetener as a natural safe sweetener for all our customers that consume our Yucca Extract product. Here's a recipe that works well:
One quart of distilled water
1/2 - 1 Tsp Yucca Extract
(Premium Food Grade-less bitter)
1/8 cup fresh lemon juice
Use Just Like Sugar to sweeten 1- 4 tsp.
Just Like Sugar* is a 100% natural FDA GRAS (generally recognized as safe) approved sweetener made from only the purest of ingredients. Just Like Sugar* mimics the attributes of regular cane or beet sugar in every way without any of the negatives from other sweeteners on the market today.
Just Like Sugar* Is a natural dietary supplement made from ingredients originating in the Amazon jungle for use as a dietary aid, namely, a no calorie sweetener, in class 5 (U.S. CLS. 6, 18, 44, 51 and 52).
Just Like Sugar, Inc. is proud to introduce our newest FDA GRAS taste sensation Just like Sugar*, a totally unique Natural Sweetener that is available for sale, through Web sites, and is now found in many manufactured food products, retail stores and restaurants worldwide.
Just Like Sugar* is a wonderful natural alternative for those health conscious people, who choose a calorie-restricted diet, with a great pure sweet flavor that tastes
Just Like Sugar*
(hence the name) without any harm from some of the other artificial sweeteners.
Just Like Sugar
*
is a great natural option for people suffering from diabetes and may be useful in restricted diet programs where standard sugars are not allowed.
Just Like Sugar* enhanced composition is a source of Natural Dietary Fiber obtained from Chicory Root and Vitamin C, which should be essential ingredients in everyone's daily diet. Just Like Sugar* comprises a perfect blend of crystalline Chicory Maltodextrin pure balanced extract, Chicory Root Dietary Fiber, Vitamin C, Calcium and all Natural Flavors.
Unlike other natural sweetener products in markets today, which have a characteristic intense sweet and bitter licorice after taste, Just Like Sugar* has a proprietary formulation which tastes clean, smooth and sweet. It does not leave an after taste. "You need to try it to believe it!"
Just Like Sugar* granular composition is as sweet as regular sugar cane gram for gram and will dissolve instantly in any type of drinks, hot or cold. Just Like Sugar* tastes great in all of your cooking, baking and, foods recipes that you sprinkle sugar on such as cereal, fruits, shakes, etc*
Nutritional Facts per one gram serving Size found
0 Calories,
0 Sugar,
0 Fat,
0 Cholesterol,
0 Sodium,
0 Carbohydrates,
0 Protein
It does not contain any soy, yeast, animal derivatives, No MSG, No L-Glutamic Acid, No D-Glutamic Acid, No Aspartic Acid or preservatives; it is not fermentable and will not promote tooth decay.
Just Like Sugar* is available in a 165g (5.82oz) bottle and 100 separate individual serving packet boxes. Note: One teaspoon of Just Like Sugar* has the same sweetening power as one teaspoon of regular cane sugar.
Just Like Sugar* is a natural alternative to harmful artificial sweeteners and will change the way you believe all Natural Sweetener products taste. Product No. AR160GR-2
*NOW AVAILABLE at http://tandjenterprises.com
Product Catalogue

Privacy, Return, Refund Policy

© Copyright 1998 - by T & J Enterprises. ALL RIGHTS RESERVED.