T&J Enterprises
Since 1998
AFFORDABLE ORGANIC GARDENING SUPPLIES

Phone: (509)327-7670 (888)769-3878


Site Navigation Menu
Asian
Pear Trees
- Frost Protection Exhibit
Asian Pear tree:
Our
pear tree
s
produced heavily
after they were hit by frosts. Spray our microbe tea on plants before bud break to protect them from late frosts.
This exhibit illustrates how a single application of Natures Own Growing System Microbe Tea sprayed onto the plants once before bud break will protect blossoms from late frosts. 1/2 cup Yucca Extract was added to every 5 gallons of diluted Microbe Tea mixture. The diluted tea was then sprayed on the trees before bud break. Late frosts had very little effect upon the blossoms or fruit set.
Our BioVam and Natures Own Growing System Tea Brewer products provide the soil life which transform nutrients into a form best utilized by your plants. Our BioMinerals fertilizer provide plant nutrient sources for that soil life. When that kind of system is put into action in your gardening efforts, higher yields and quality can be expected from your fruit trees.
Organic Gardening Kit - click here to purchase.
Asian pears comprise a large group of pears that are crisp in texture and, when mature, are good to eat as soon as harvested or for several months after picking if held in cold storage. This ready-to-eat feature may make them more acceptable to some people than European pears that are usually served when soft and juicy, which takes about a week to occur after removal from cold storage. Asian pears do not change texture after picking or storage as do European pears such as Bartlett or Comice.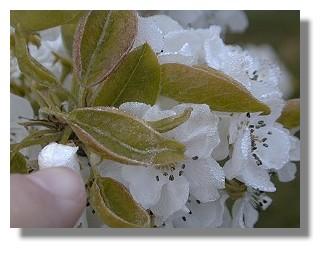 We had frost every night for 7 days and these early morning pictures show leaves and blossoms iced up. This amount of frost generally causes blossoms to turn black and drop. No fruit would set. Many people had no fruit this year (2004) because of these frosts. Frost Picture 1. Click on picture to see a larger version with more detail.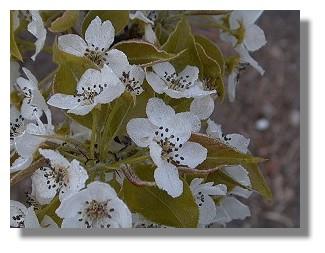 Frost Picture 2. Click on picture to see a larger version with more detail.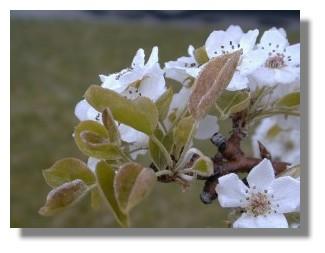 Frost Picture 3. Click on picture to see a larger version with more detail.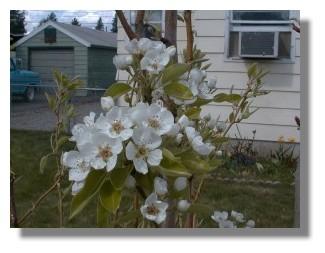 After a week of frosts every night for 7 days, the blossoms are doing well.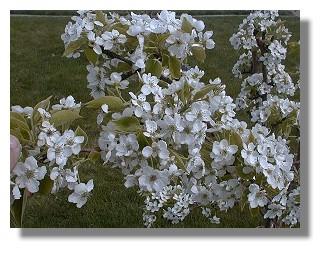 After a week of frosts every night for seven days, very few blossoms turned black and dropped to the ground. These are all in good condition and fruit set was very good.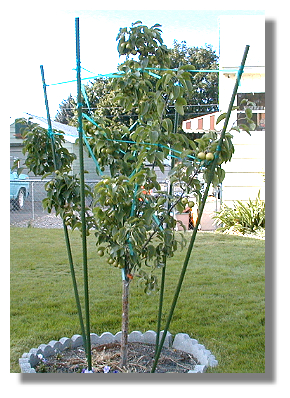 The poles are to hold up the branches so they didn't break. This tree was in full bloom when two late, hard frosts occurred. The frosts had no affect upon the tree. A few blossoms were brown at the edges, but no blossoms fell as a result of the frosts. None of our friends had pears this year (2002) due to those two late hard frosts.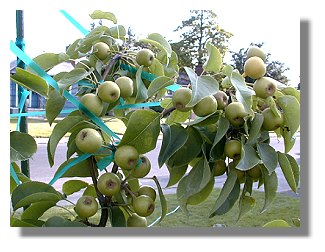 We didn't thin the fruit on this tree because we wanted to see how the tree would produce. Thinning would have resulted in larger sized fruit. We had no insect or disease problems with the fruit or leaves. No preventative pesticides were applied to the tree.
How to:
We amended the clay soil where the tree was planted with a bag of inexpensive potting soil. One cup of Planters II trace mineral fertilizer and two cups of biosol forte 7-2-1 organic fertilizer was also mixed into the soil. A tablespoon of BioVam was applied to moistened plant roots. As soon as the snow melted, we sprayed the tree and the soil around the tree with Natures Own Growing System Tea once a week. We applied 1/2 cup of unpreserved Yucca extract to the tea. A quart of Natures Own Growing System Tea + the Yucca was applied to everything in 2,000 square feet... including our two pear trees. Some of the leaves were torn by hail storms. No damage was found from insects or diseases.
Product Catalogue

Privacy, Return, Refund Policy

© Copyright 1998 - by T & J Enterprises. ALL RIGHTS RESERVED.