T&J Enterprises
Since 1998
AFFORDABLE ORGANIC GARDENING SUPPLIES

Phone: (509)327-7670 (888)769-3878


Site Navigation Menu
BioVam Grown Sweet Potatoes
The results depicted here are easily achived by using our Organic Garden Kit: BioVam, Microbe Tea Brewing Kits, BioMinerals, and Yucca Schidigera Extract.
This is a good illustration of VAM fungi vectoring from one plant to another. In this case, some eggplants were treated with BioVam and Sweet Potatoes were planted between the eggplants. As the roots got close to one another, the Mycorrhizal fungi transferred (vectored) from one plant to the other. As you can see, Sweet Potatoes do quite well with BioVam's Mycorrhiza working in their roots. Each one of those giant sweet potatoes look like a couple of meals each!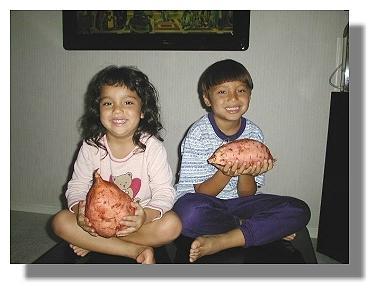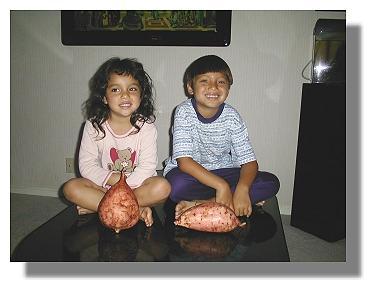 Click on Pictures to Enlarge
Hi folks, I may be prejudiced....but are these the most gorgeous kids you've ever seen? My kids and wife pulled these sweet potatoes out of my tomato garden (GRRR!). My wife planted them between my BioVam treated Thai Eggplants, and guess what happened? The Vam vectored over to them and look at the size of them!

I didn't grow tomatoes last season (except in a couple of containers) and so no fertilizer or care was given to them. The nutrients from two season ago were enough to get them this big.

What do you think?

Pete
Videomaker2000@home.com
September 10, 2001
Coral Springs, Florida
Product Catalogue

Privacy, Return, Refund Policy

© Copyright 1998 - by T & J Enterprises. ALL RIGHTS RESERVED.