T&J Enterprises
Since 1998
AFFORDABLE ORGANIC GARDENING SUPPLIES

Phone: (509)327-7670 (888)769-3878


Site Navigation Menu
BioVam Treated Amaryllis Bulbs
The results depicted here are easily achived by using our Organic Garden Kit: BioVam, Microbe Tea Brewing Kits, BioMinerals, and Yucca Schidigera Extract.
Amaryllis, a monocot, benefits from BioVam Mycorrhiza. The picture below was taken at a local lawn and garden store and shows Amaryllis plants mainly with one stalk. Some had two stalks but the second stalk bore no flowers. A few had two stalks with flowers on both, but the flowers were quite small due to the fact that plant energy had to go into both stalks and their blooms.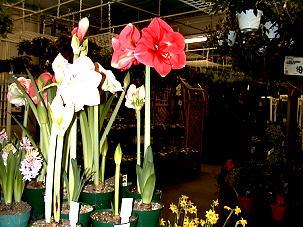 Below are two Amaryllis plants treated with BioVam Mycorrhiza. They were grown at different locations and both stalks bore large blooms. We also noticed that as long as one kept watering the plants the leaves stayed upright and strong. Other customers report that two stalks came up on their Amaryllis plants. Large blooms on both stalks and very healthy looking plants seem to be the norm when treating Amaryllis bulbs with BioVam Mycorrhiza.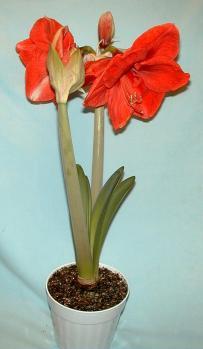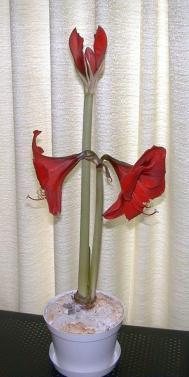 Customer Comment about his BioVam treated Amaryllis bulb.
Hi,

Just wanted to let you know that BioVam does good things to Amaryllis. My bulb did not want to die back for it's winter rest when when I stopped watering it in late September. Now in December, I am cutting off green leaves before putting it to rest for a month or two in cold storage. Normally the leaves would have returned their energy to the bulb in October, and this bulb would be resting already. But with BioVam it did not want to seem to rest. Also, when I unpotted it the roots were HUGE. Normal root hairs were 5-10 times larger than normal. I can only assume that the BioVam gave the bulb great drought tolerance and really stimulated root growth. When this bulb blooms for the first time (post BioVam) I will let you know about the flowering. Just wanted to let you know what I saw in my amaryllis.
Thomas O...., Ontario, Canada
Product Catalogue

Privacy, Return, Refund Policy

© Copyright 1998 - by T & J Enterprises. ALL RIGHTS RESERVED.