T&J Enterprises
Since 1998
AFFORDABLE ORGANIC GARDENING SUPPLIES

Phone: (509)327-7670 (888)769-3878


Site Navigation Menu
600 "BioVam Grown"
Léon Millot at an Organic Vineyard
Starting in May, 1999, BioVam has been applied to lawns, vegetable gardens, Raspberries, Blackberries, and several different kinds of grape varieties (Chardonnay, Limberger, Siegrrebe, Leon Millot). This customer is a registered organic grower in the State of Washington and is located about 20 miles north of Kettle Falls, Washington on the Columbia River.
About 600 new Léon Millot grape plants were treated with 1.5 teaspoons each of BioVam Mycorrhiza early in May in 1999. The pictures below track the progress of growth. These pictures are part of our applied research efforts to demonstrate the growth response that occurs from the standpoint of elevated plant health when BioVam Mycorrhiza is applied to the root systems of benefited plants.
Léon Millot (Kuhlmann 194-2) is an early-ripening black grape produced from the same cross as Maréchal Foch. The wines are similar, with distinct berry aromas. Vine characteristics tend to be similar as well, although Léon Millot is usually more vigorous and productive.
Click on the pictures to view a larger size.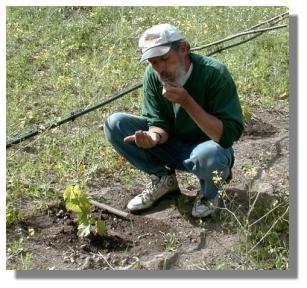 Confidence Israel, Vineyard Manager, working on irrigation system distributing water to 600 new Leon Millot grape plants treated with BioVam Mycorrhiza. At the taking of this picture, 6/9/99, these plants have been in the ground about one month.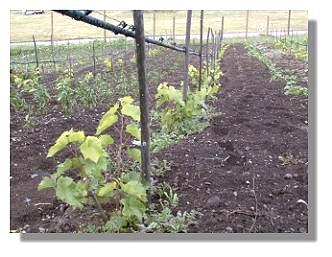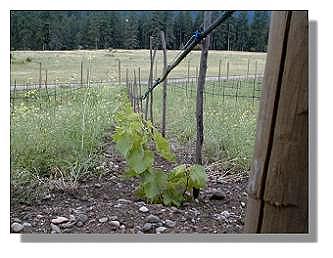 Another month (7-7-99) and a few plants have grown to reach the irrigation line.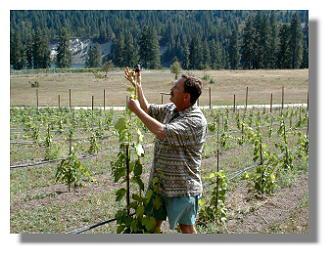 This picture (on the right) was taken on 8-11-99 three months after planting and inoculating these Leon Millot grape plants. This plant, being measured by Michael Lowe, already has a six foot vine. 1.5 teaspoons of BioVam were applied to these plants at the time of planting. No fertilizer has been applied to these plants yet. This is a new Vineyard of 600 plants. Their growth is nice and even throughout the vineyard.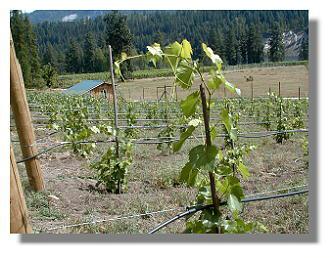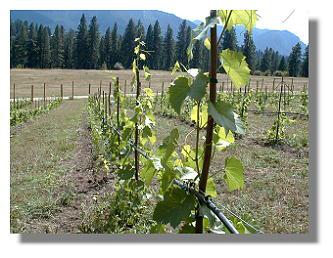 The above two pictures were taken 8-11-99 and show the vibrant emerald green colors and excellent growth that is being achieved thanks to the BioVam Mycorrhiza at work in the roots of these plants. All 600 original plants are doing nicely. None of the 600 plants were showing any signs of duress. No plants have been lost.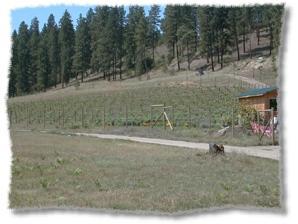 Another view of the 600 Leon Millot. You enter into the vineyards estate on the entrance road in the foreground coming from the left. The brilliant emerald greens of the BioVam Grown Leon Millot are a spectacular contrast in this forest setting along the mighty Columbia River. The Vineyard is named after the bend the river takes at this point.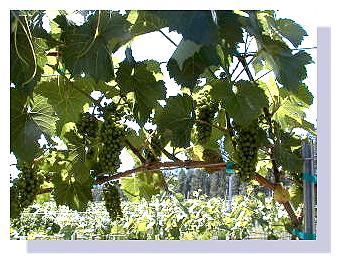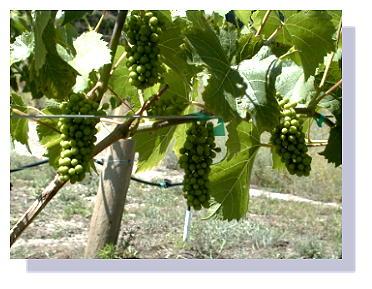 2nd Year Leon Millot pictures taken 07-14-2000
Grape clusters averaged 6 inches in length in July of the second year. The comment common to most visitors, "We've never seen second year plants like these before." The vineyard manager was scrambling to get the upper trellis wires up. These BioVam Grown plants looked better than four year old plants. Less than $100 worth of BioVam in the first year produced a harvest worth much more in this second year. Click on pictures to view a larger picture.