T&J Enterprises
Since 1998
AFFORDABLE ORGANIC CONTAINER GARDENING SUPPLIES

Phone: (509)327-7670 (888)769-3878
Site Navigation Menu
Using our Organic Gardening Kit for




CONTAINER GARDENING
BioVam Enhanced Container gardening, Tray garden: Our Natures Own Growing System Microbe Tea and BioVam products provide the soil life which transform nutrients into a form best utilized by your plants. Our BioMinerals fertilizer provides Plant Nutrient sources as food for the soil life and plants. When this kind of system is put into action in your container gardening or raised bed gardening efforts, tomato plants with 50+ fruit per plant are normal yields.
BioVam Mycorrhizae on plant roots combined with periodic applications of Natures Own Growing System Microbe Tea, BioMinerals fertilizer can transform potting soil into a living soil environment for container gardening. Plant cell development is prolific when these products are used to grow plants. Plant flavors are maximized. Plant health, vitality and yields are maximized. Grow plants inside during the winter and outside during the spring, summer and fall months. This is the answer for container gardening for apartment renters. Grow fresh veggies all year long no matter where you live. No weeds to pull when you use this gardening method.
If you want superior results with your gardening efforts, you are in the right place. Look through the sequence of pictures below that show how to construct your own container or tray garden using organic ingredients sold by T&J Enterprises.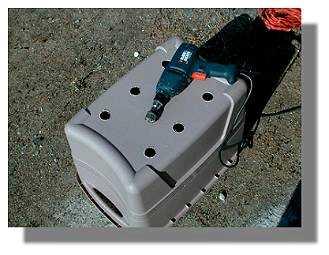 I purchased an 18 gallon stirilite plastic tub and lid on sale for about $3.95 and drilled six, one inch holes in the bottom so water can drain out. Optionally, the holes can be drilled in the sides near the bottom.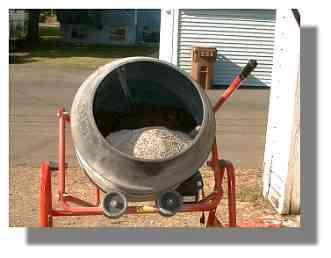 I use a cement mixer to mix up my potting soil ingredients. A wheelbarrow would work also. The potting soil with our added ingredients make a system that supports the growth of high quality plants.
"THE RECIPE" for 2 square feet (the surface area of one tub).
2 1/2 cups of BioMinerals fertilizer.
2 cubic feet of potting soil without fertilizer added (Nursery Mix, or Compost).
1-2 gallon pails of perlite for subsequent years growing medium. Perlite is not used the first year. It is used after the first year to loosen up the growing medium.
Note: the growing medium can be a variety of different products. Potting soil, Nursery Mix, Compost, etc. The main thing is do not use a growing medium to which chemical fertilizers have been added. This system releases a lot of energy and will cause all the chemical fertilizers to be released at the same time and that can burn your plants.
Apply the fertilizer ingredients (BioMinerals) to the top of the growing medium and mix into that growing medium with your fingers.
After the ingredients are all mixed together, move the tub to it's new location. You may want to have the tub in it's final location and then put the growing medium and fertilizers into it because the whole thing can be quite heavy to lift.

Now you are ready to plant your seeds or transplants.

For seeds: make a furrow or depression. Put down BioVam where you are going to place your seeds. Set the seed on top of the BioVam.
For Transplants: Make your planting hole. Apply BioVam to moistened roots or potatoes and plant into the tub.
After you have planted your seeds or transplants in your tubs, apply our Microbe Tea with Yucca Extract added as a soil drench to your tub (s). The Yucca Extract will make a significant difference on the plant germination stage, growth stage, and fruiting stage. Seeds will germinate faster and the plants will grow to have large root systems as well as large above ground systems due to the plant cell cleaning properties of the Yucca Extract that allow more effective uptake of water and nutrients into plant cells.
There are lids that are sold with those tubs and you can set the tub on the lid and thus use the lid as a catch tray for water you add to the tub from time to time. Outside on the ground, you won't need the catch tray. If you set your tub on a patio, you may want to have that lid underneath the tub so you don't stain the concrete.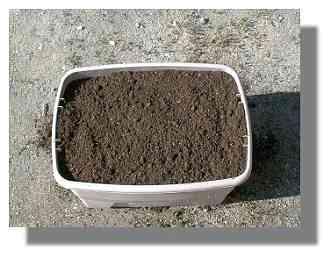 Container Garden Exhibits (watered by a drip system)
All plants are treated with BioVam Mycorrhiza and Natures Own Growing System Tea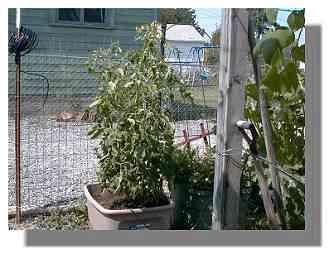 Beefsteak Tomato plant (above)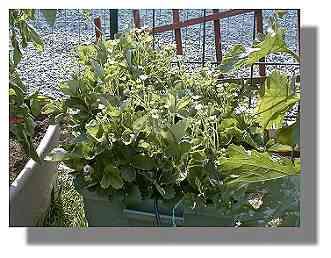 12 Strawberry plants crowded together (above)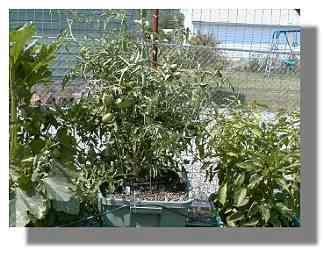 Black Krim Tomato plant (above)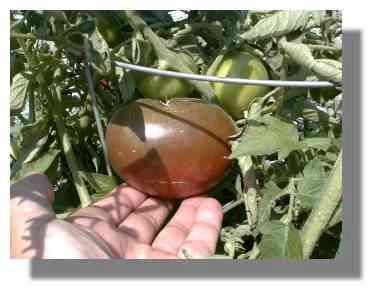 First Ripe Black Krim (above)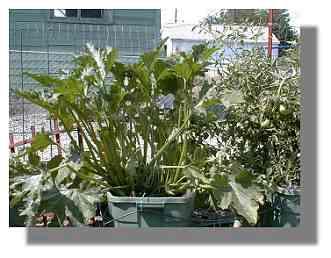 Zucchini Squash (above)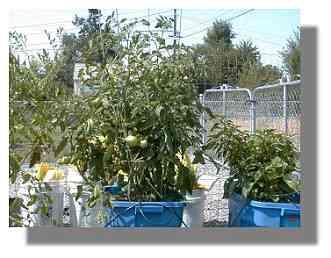 Celebrity Tomato plant (above)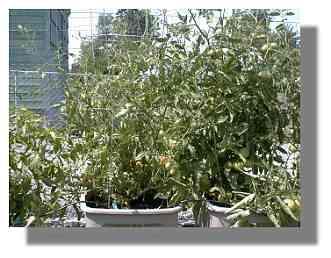 Grape Tomato plant (above)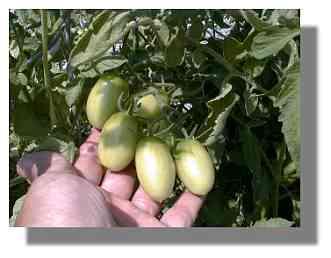 Grape Tomato fruit (above)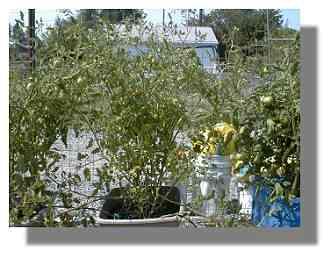 Sweet 100 Tomato plant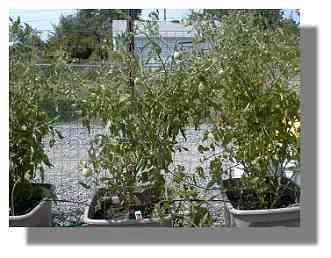 Better Boy Tomato plant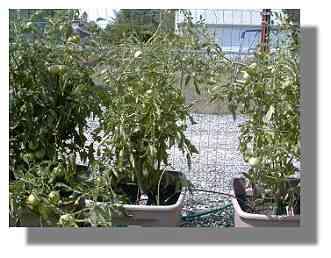 Container Super Fantastic Tomato plant (above)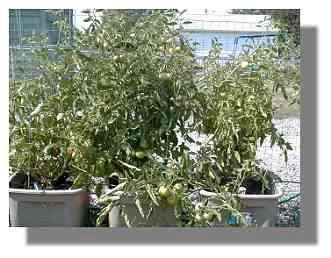 Early Girl Tomato plant (above)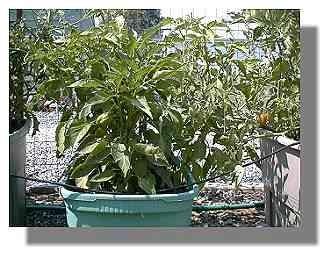 Bell, Anaheim, Jalapeno pepper plants (above)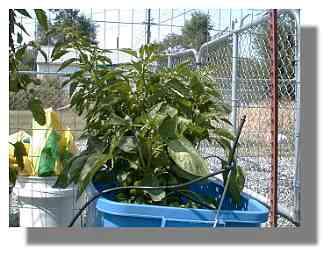 Bell and Thai Super Hot Pepper plants (above)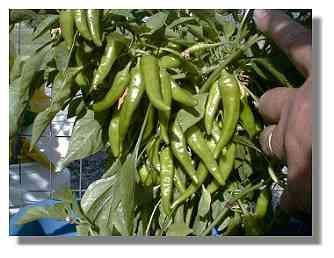 50+ Thai Super Hots on this plant.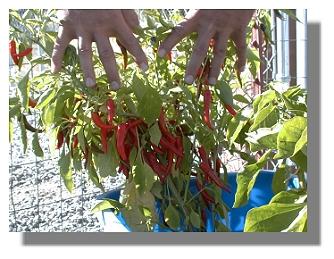 Ripened Thai Super Hots 09-05-2001
(We used the dehydrator on these.)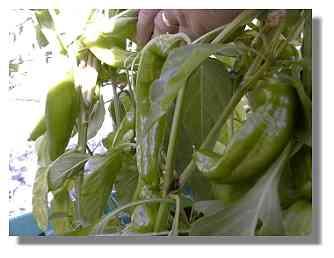 Great looking Anaheim peppers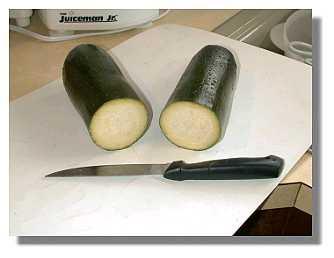 Zucchini is perfect for frying slices.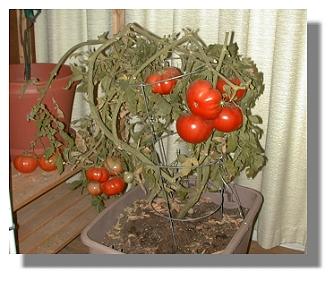 Beefsteak Tomato Plant pruned, and moved inside at first frost.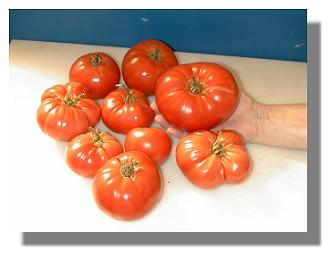 First Beefsteak harvest from inside plant.
10-08-2001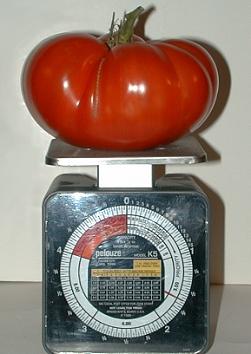 We have grown Beefsteak tomatoes for years out in our garden soils, but we have never been able to grow this size tomato until we switched over to container gardening. The Tomato on the left weighed in at 1 lb 10 oz. It was the largest from this plant. We had several tomatoes over one pound.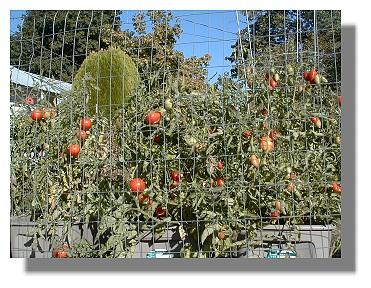 Slim pickings at the end of the year. When the evenings are cool and the days are warm, the flavors take a nice jump. We had an excellent harvest at the end of the year to make some really tasty tomato sauce. Picture taken: 09-25-2001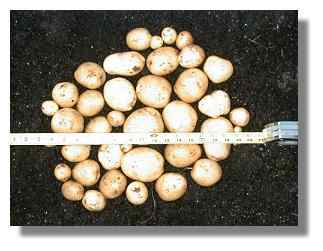 Two seed potatoes produced 38 Yukon Gold potatoes in our 2002 container gardening experiment. It's normal to get about seven tubers per plant. We grew 19 per plant. That's 10 lbs of potatoes from two plants.
Product Catalogue

Privacy, Return, Refund Policy

© Copyright 1998 - by T & J Enterprises. ALL RIGHTS RESERVED.