T&J Enterprises
Since 1998
AFFORDABLE ORGANIC GARDENING SUPPLIES

Phone: (509)327-7670 (888)769-3878


Site Navigation Menu
BioVam and Grape Cuttings
These are one month old grape cuttings that were treated with BioVam on 7/1/98. The pictures illustrate how much more vitality and vigor is possible after applying BioVam mycorrhiza to grape cuttings. Great for wine grapes and table grapes.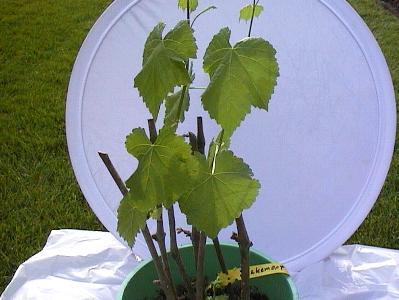 These are one month old cuttings, Lakemont variety grapes which have been inoculated with BioVam® Mycorrhiza. (BioVam treated lawn in the background.) A white seedless - Himrod type grape.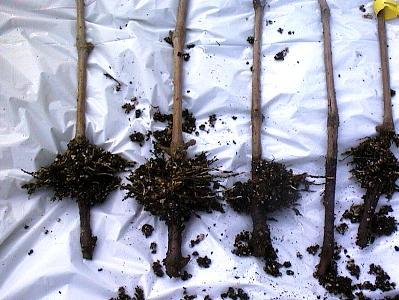 This is what the roots look like. Out of seven cuttings only one remained a "stick." If you are an expert on grapes, please send me your comments about the progress of these grape plants. More pictures will be added here in the future.
Dear Thomas:
The grapes are certainly doing better than I would expect after just a month, but I can't say just how much better from the photos. Lakemont is fairly easy to root, which helps of course. I'd say pot them up individually and take photos of untreated ones at the same age, when they get to the age the treated ones are now. You might include a yardstick or something for scale in the photos.
-Lon
[Note: The largest leaves are 4" wide by 5" long. The cuttings are 16 inches long. The root width is about 3-4 inches. I have some non-inoculated plants potted now and will include pictures of them when they are 5 weeks along.]Lon Rombough has given us permission to display his instructions about how to start grape cuttings. We highly recommend that you purchase your cuttings from Lon. He has quantities available for hobbyists and growers alike. If you have any questions about growing grapes, Lon is the man to ask. You will find a link to Lon's web site in the article and links to other resources you may need to purchase when starting your own cuttings. At the bottom of Lon's article, under the link to T&J Enterprises shopping cart for BioVam purchases, you will find a link to our instructions about how to apply BioVam mycorrhiza to grape plant cuttings and rooted plants.
Click here to view Lon Lombough's instructions for starting grape cuttings.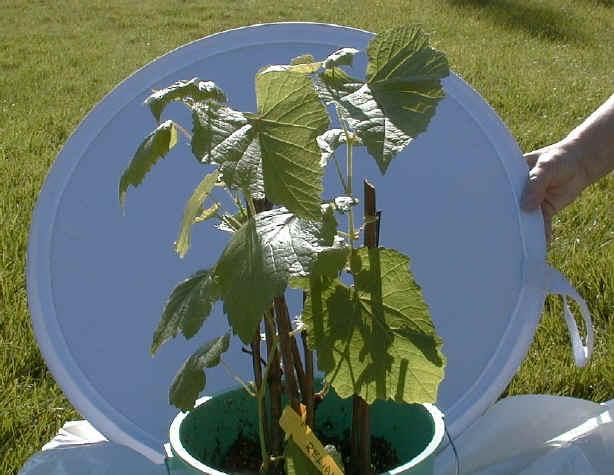 These are Reliance variety grape cuttings at six weeks after being inoculated with BioVam. This picture was taken 8/9/98. The largest leaf is 4.5 inches wide by 5.5 inches long. Developed by the University of Arkansas. Large clusters of round, red, seedless, medium sized berries. The skins are tender and the flesh is melting in texture, with sweet labrusca flavor.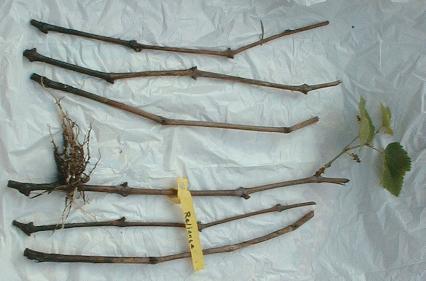 This picture was taken 9-18-98 and is an uninoculated control group that had been in a pot two months. The variety is Reliance. Of six cuttings, only one grew. There is quite a difference between this plant and those below which are the same variety and age, but were inoculated with BioVam Mycorrhiza.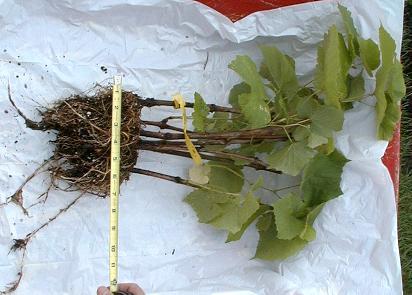 This picture 9-18-98 is a two month old group of Reliance Variety grape cuttings which were inoculated with Mycorrhiza. All six cuttings rooted well and had nice sized leaves on them. They were root bound in a two gallon bucket. When one compares these results with the control above, it becomes obvious that BioVam Mycorrhiza has a significant impact upon grape cuttings.
The above grape plants were easily separated and planted in one foot deep holes. 1.5 tsp of BioVam was applied to the roots at the time of planting. I have also applied BioVam via six probe holes around each plant made with a construction pry bar each spring before bud break. I applied our Living Soil Amendment fertilizer around the grape plants twice a year... once in the spring and again in six weeks. Microbe teas were sprayed on the soils around my grape plants every 10 days. These plants were put in the ground in late summer and grew to be about three feet high before going dormant. The second year, the plants grew ten to twelve feet and produced fruit and were in position to tie down cordons for the third year production. If I had gotten these plants in the ground in the spring of the first year instead of late summer, I would have had cordons in place the second year.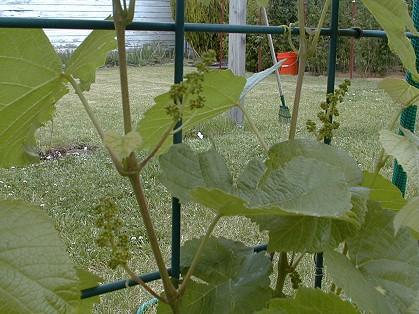 Second year Reliance Vines produced double clusters and grew enough to tie down cordons for the third year production cycle. These plants grew to be about 12 feet high by the end of the year. Picture taken: 06-10-2000.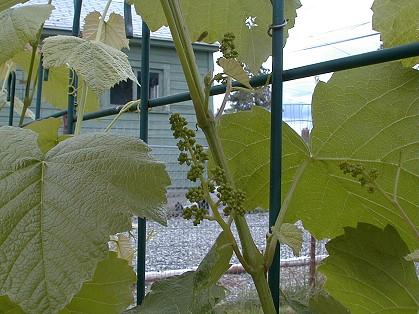 The second year Himrod grapes did okay. I left the fruit clusters on because the vines were vigorous. They grew to be 10-12 feet by the end of the year, enough to tie down cordon's for the third year production. Picture taken: 06-10-2000.
In the third year... nice looking clusters! And a lot more of them.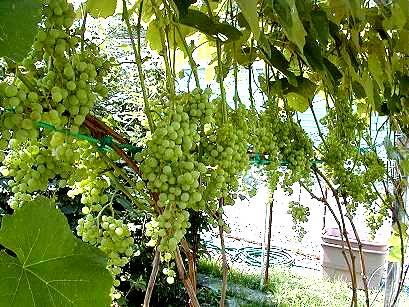 The second year we had a nice crop of grapes, but the third year (8-15-2001) produced a lot more! These are Reliance and Lakemont table grapes. We have applied BioVam to the roots of these plants each year.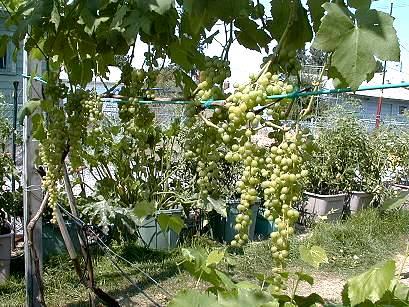 BioVam treated Himrod are looking healthy in their third year (8-15-2001.) We allowed 10 fruiting vines to come out on this cordon. There are 23 clusters on the 10 fruiting vines. A delicious grape, one of the finest of the seedless varieties. The clusters are large but rather loose; berries are medium size, oval, yellow and sweet.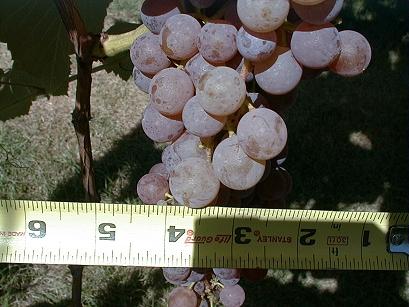 When one sprays some Sure Grow Frost Guard and Plant Protector on these Reliance grape plants (also treated with BioVam Mycorrhiza), the grapes plump up nicely. These are close to 3/4 inch in diameter. Picture taken 09-13-2001.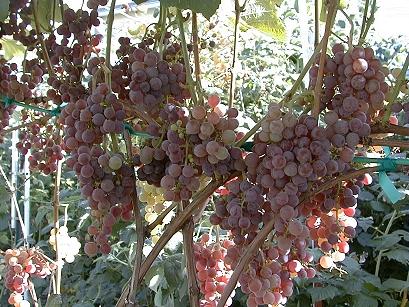 There's lots of Reliance grapes to eat from this "wall of grapes." These are third year plants which have been treated with BioVam Mycorrhiza. Picture taken: 09-19-2001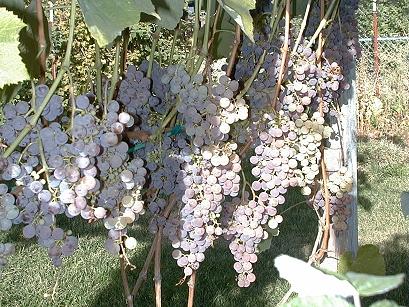 These reliance grapes are the same as those in the above picture... taken from the other side of the row. It should be interesting to see what the fourth year grapes look like. We'll just have to wait and see. Picture taken: 09-20-2001

One cluster from our 2004 Reliance Grapes.
Product Catalogue

Privacy, Return, Refund Policy

© Copyright 1998 - by T & J Enterprises. ALL RIGHTS RESERVED.