T&J Enterprises
Since 1998
AFFORDABLE ORGANIC GARDENING SUPPLIES

Phone: (509)327-7670 (888)769-3878


Site Navigation Menu
Earthworm Populations Significantly
Increase in Soils Treated with BioVam? Mycorrhiza
Our best buy is our Organic Garden Kit which gives you all the products. We do allow larger quantity substitutions in the kit. Bulk BioVam can also be included in the kit .
Click here to order the Organic Garden Kit.
Written connections between Mycorrhiza and Earthworm activity is little to non-existent, so perhaps this will be significant information to those who don't realize there is a connection. In all our applications of BioVam? Mycorrhiza there has been an explosion in Earthworm populations in the soil. We have routinely observed that areas of soils that had no detectable earthworm activity now have earthworms thriving in them in large quantities. This is an important "side effect" of using BioVam Mycorrhiza Inoculum with a variety of plants. We are not going to try to expound on all the benefits of earthworms in the soil because a lot of people have already done that. See some of the reference links below. There are people who invest a lot of money in trying to raise their earthworm populations... a small investment in BioVam? Mycorrhiza can get you results with earthworms in addition to the benefits of Mycorrhiza working with your plants.
Why earthworms are important:
The soil is enriched with their waste and Mycorrhiza processes their castings as a significant source of organic fertilizer.

Their tunnels allow air and water to go deeper into the soil.

Their tunnels also allow grass roots to extend deeper into the soil, as they tend to follow the nutrient rich worm tunnels.

Earthworms consume decaying organic matter throughout the soil as well as thatch and mulched lawn clippings, leaving behind their enriched castings as organic fertilizer for the Mycorrhiza.

Worms are food for many animals.

Worm activity and their castings are widely used to aid the increase of crop yields and plant health.

They are a key natural element to improving and enriching soils.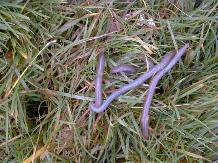 When we poke holes into Turf treated with BioVam? Mycorrhiza, earthworms come crawling out all over the place. Does anyone need bait for fishing? BioVam? treated lawns offer a large supply of Earthworms. (Treated lawn in picture.)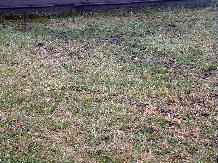 A few months after applying Mycorrhiza to a lawn, the Earthworm population significantly increases. In the picture on the left, notice several dark spots (worm holes). Worms fertilize and aerate the soil.
Below are some pictures we took that illustrate how worms go after grass that is laying on top of the ground. We have a pepper plant in a large pot and we noticed there were a lot of earthworms in the pot, so we decided to place some grass on top of the soil to see what the worms did with it.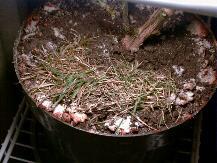 On 02-08-99, we laid a handful of grass from our BioVam treated lawn on top of the soil of our BioVam? treated Green Pepper plant. We were always finding worms on the floor. They had crawled out of the pot in order to go look for food.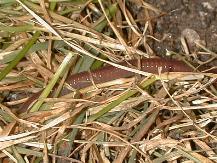 Here's a picture of one of the residents. If they sense any motion near them, they will quickly go down their hole in the soil.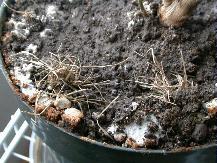 Two days later on 02-10-99, we noticed the worms had been busy. They had pulled the grass down into the soil so they could eat it. They had consumed 75% of the grass in just two days.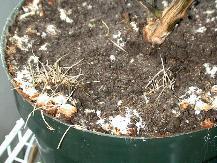 One day later on 02-11-99, most of the grass had been consumed. We pulled these tuffs out and found that the worms had pulled it into the soil more than two inches. The dead grass is also well within reach of the Mycorrhiza and other biotic ingredients in place as a result of inoculating this Pepper plant with BioVam? Mycorrhiza soil amendment. As the worms consume this grass, their castings will also be reduced by the Mycorrhiza and the nutrients will end up in our plant. This seems like an effective way to fertilize this Pepper plant.
Links to Earthworm Information:
Earthworms - Building Your Soils

Earthworms - Thatch-Busters
Product Catalogue

Privacy, Return, Refund Policy

© Copyright 1998 - by T & J Enterprises. ALL RIGHTS RESERVED.