T&J Enterprises
Since 1998
Exhibits illustrating results of using our products

Phone: (509) 327-7670 (888)769-3878

Site Navigation Menu
Pansy Exhibits Resistance to Environmental Stresses (Winter)
As the season changes from Fall into Winter with the routine frosts and snows, we have discovered that one of our BioVam treated Pansies is resisting the change. It is still acting like it is early Fall. Plants treated with BioVam Mycorrhiza become resistant to environmental stresses. Pansies were planted in September of 1998 and three of six were inoculated with BioVam Mycorrhiza. As the frost came, five of the plants do what Pansies normally do under those harsh conditions ... they die out.
One would think after this kind of weather, that this last pansy on 12-05-98 would be joining the other five that were planted and are now gone.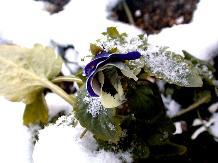 The next day, 12-6-98, we see that this plant isn't going to listen to "winter" and fade away just yet. It's ignoring the snow and ice.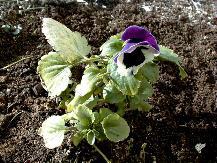 On 12-09-98, our subject is perking up in the sunshine a bit. Frosts have been occurring each night for a month.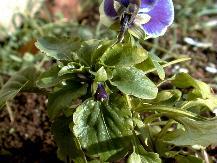 If you look closely at the center of this photo taken on 12-09-98, you will see that our Pansy is trying to set another bloom.
When BioVam Mycorrhiza is used with plants, we find that environmental stresses are resisted. This plant will eventually die as the winter gets colder and the frost is present 24 hours a day. This resistance to environmental stresses applies to all plants that have a plentiful amount of Mycorrhiza in their root systems.
This Pansy plant lasted into the summer of 1999, when landscaping of this planting area forced its removal. Up until its removal this plants growth expanded greatly producing an abundance of flowers.
Product Catalogue

Privacy, Return, Refund Policy

© Copyright 1998 - by T & J Enterprises. ALL RIGHTS RESERVED.