California Green Bell Peppers Treated with BioVam Produce Higher Yields.
These are pictures of Green Bell Peppers grown in the garden area of T&J Enterprises here in Spokane. In most growing seasons, we have never been able to get these to mature before the frost comes in the fall. This plant was treated with a teaspoon of BioVam Mycorrhiza Inoculant when it was planted in June of 1998.
Click on Picture for a Larger View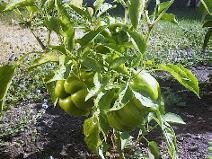 In two months this plant had four nice sized peppers ready to harvest. This is not generally achieved in the Spokane area within 4 months of growing. This picture was taken August 2, 1998.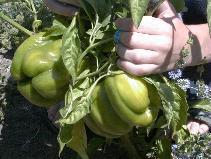 The little blue flowering plant in the background is called Penny Royal. It keeps domestic cats out of the garden. Cats don't like the smell of it and they will keep away from the garden areas where Penny Royal is planted. Those peppers were nice and sweet.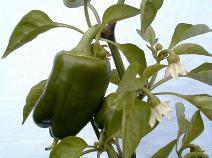 This photo was taken October 3, 1998. That same plant shown above produced a good crop of peppers. The plant grew three two foot stalks and a second crop of peppers started forming on the plant. I've been gardening for over 40 years and I've never observed two crops of peppers on the same plant in this area. We are generally lucky to get one crop of peppers before the frost starts. When this picture was taken, nearby Maple trees already had Orange leaves present.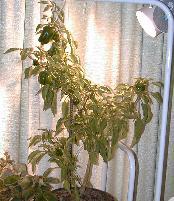 Because of evening frosts, we dug the Pepper plant up and brought it inside. It consumes a quart of water per day. The stalk is 3/4 inch thick and it stands 30 inches high. Currently, 15 Green Bell Peppers are on this plant. Thanks to the effects of Mycorrhiza, this plant suffered no transplant shock when we took it out of the ground. This picture was taken 10-13-98.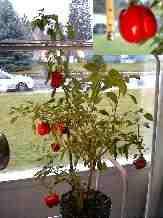 This picture taken 11-20-98, shows all the green peppers have matured and are a nice bright red color. They are all nice and firm and we are going to start eating them in a couple of days. This is the second crop of peppers. The blooms for the third crop have now started and some of the third crop of peppers has started to form. This plant has grown seven inches since we brought it inside. With Mycorrhiza, sustainable agriculture is a reality!
Product Catalogue

Privacy, Return, Refund Policy

© Copyright 1998 - by T & J Enterprises. ALL RIGHTS RESERVED.