T&J Enterprises
Since 1998
AFFORDABLE ORGANIC GARDENING SUPPLIES

Phone: (509)327-7670 (888)769-3878


Site Navigation Menu
Growing Raspberries with
Natures Own Growing System - An Enhanced Growing Process

Using BioVam Mycorrhiza with Natures Own Growing System
Highly Productive Natural Organic Growing for Raspberries
The results depicted here are easily achived by using our Organic Garden Kit: BioVam, Microbe Tea Brewing Kits, BioMinerals, and Yucca Schidigera Extract.
Several years ago we obtained a few hundred Raspberry plants from my parents "Mini Farm," but we soon discovered we planted the rows too close together. So, in the last week of April 1998, I took on this "honey do" project. We transplanted 320 Raspberry plants into rows that were on three foot centers. The plants were placed in hills one to two feet apart in the row. If the rows are too close together the berries will not form on the lower branches as plentifully as they should.
We have two berry patches that are about 20 feet apart. 223 plants are in the test patch and 97 plants are in the control patch. 1/2 teaspoon of BioVam® was applied to the roots of each plant in the test patch as they were transplanted. 7 plants were lost to transplant shock in the control group and 3 plants were lost in the test group.
The best time to transplant Raspberries is in the fall when they are dormant. I suppose one might be able to also transplant in early spring and not cause the Raspberry plants to have considerable transplant shock. The test plants showed little to no transplant shock and grew well even in colder weather when they should have stayed dormant. The Control group had a lot of transplant shock and stayed dormant during the cold weather while the test plants were growing nicely.
After 5 weeks of weather that was cold and rainy and 65º F and less, 15 inches of new growth (circled in red on the picture to the left) was observed in the limbs of several plants in the test group.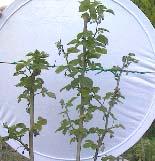 The control group had only 2-3 inches of new growth and was basically dormant.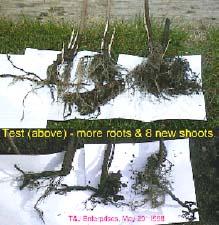 The test group showed 4-5 times the root volume. 8 new shoots were observed in the test group and no new shoots were observed in the control group. A much smaller root volume was present in the control group. No new shoots were present yet. (Treated Plants on top, Untreated on Bottom)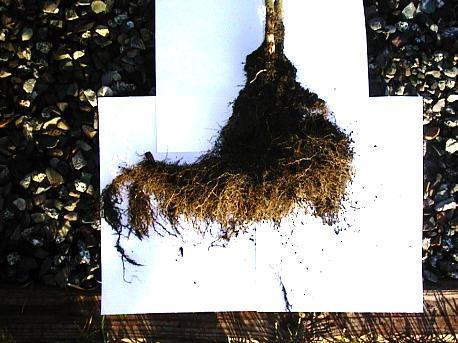 This plant (above) was dug up on June 20, 1998 - 8 weeks after being inoculated with BioVam®. Most of the fine hyphe hairs stayed in the ground. An 18" root ball on a Raspberry plant that also had a two foot high new shoot reflects the growth typical among most of our test group plants.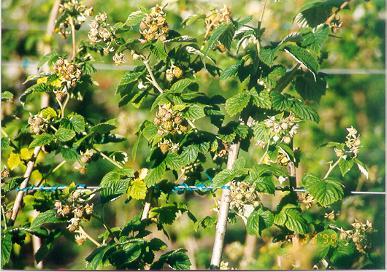 These are clusters of green berries on the test plants which were inoculated with BioVam. When they ripened, they went into Jam, on cereal in the mornings, on Ice-cream in the evening, and a lot of them never made it into the berry baskets. The thumb sized red berries never seemed to be around long enough for me to photograph...
The following pictures are of the new shoots for next year.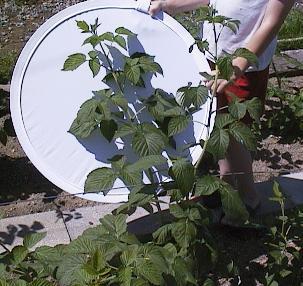 The new shoots this year are next years canes. Typically, the new shoots will be larger next year than what is shown in this picture on the left taken July 25, 1998. These new shoots are the best looking plants we have ever had in our Raspberries. Inoculating these plants with BioVam made the difference. Look for more pictures next year when these plants are fully established with BioVam's Mycorrhizae.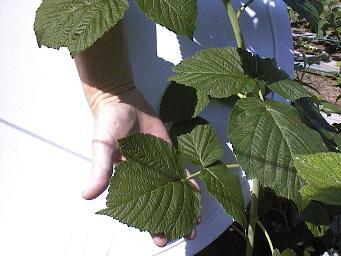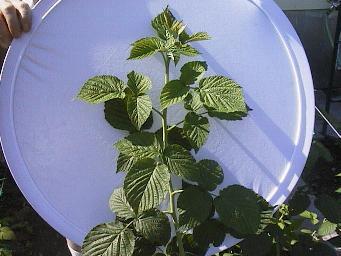 As of August 2, 1998 the new shoots for next year are doing great!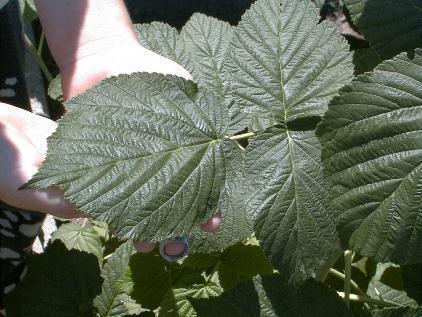 The above picture was taken August 8, 1998.
Now let's look at the Test and Control groups as of 9-4-98.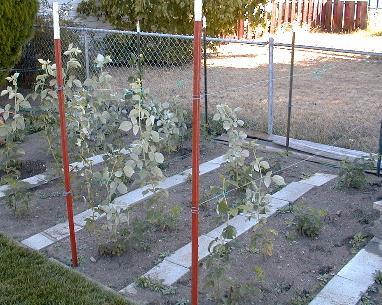 This control group is pathetic looking. We started with 97 shoots and now have 57 shoots in this control group. I turned this group into another kind of test. After all the shoots were up for next years canes, I inoculated these canes with Mycorrhizae to see what they will look like next year. (Untreated plants above.)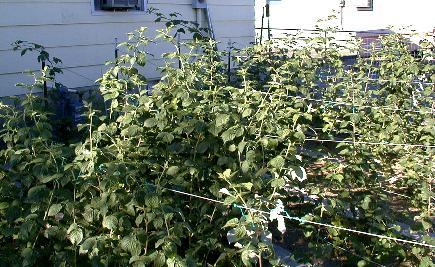 We started with 223 shoots in our test group and ended with 240 new shoots. All of these shoots came up under the influence of the Mycorrhizae inoculant. We are excited to see what these are going to do next year. Many leaves are as big as my hand. The bugs have left these plants alone because they are so healthy. And dandelions have not grown among these plants all year long.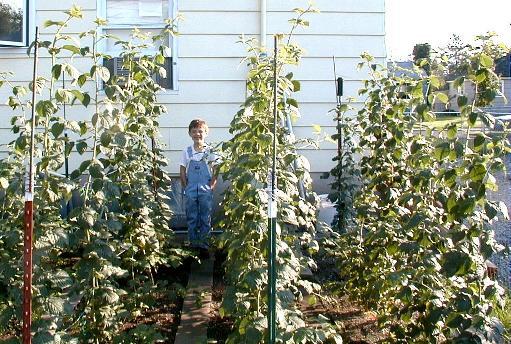 These Raspberry plants in this picture 9-18-98 are reaching eight feet in height. We will cut them back to 5 feet when they go dormant this fall. But if they grow three feet in the spring.... I'm waiting to hear from some acedemic agriculture experts as to how to care for these plants. My seven year old son, Nick stands four feet high. The posts are five feet high with two feet of rebar extending their height.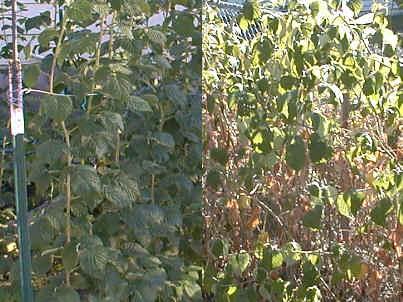 This picture, taken 9-29-98, shows Mycorrhiza Inoculated Raspberries on the left. On the right are non-inoculated berries. Notice that cooler weather is having little affect on the inoculated berry bushes while the others are dropping their leaves already. Mycorrhiza isolates plants from environmental extremes of cold, heat and drought conditions.
I have been around Raspberry plants for 45 years and have never seen such a good response in plant growth both above and below the ground. --Thomas Giannou
Product Catalogue

Privacy, Return, Refund Policy

© Copyright 1998 - by T & J Enterprises. ALL RIGHTS RESERVED.