1999 Raspberry Pictures
I've been around Raspberries for over 40 years and 1999 is already looking like the best crop of Raspberries I have ever seen in those 40 years. BioVam? Mycorrhiza has been present in these Raspberry bushes for two years now.
Two major things have happened this year that caught me by surprise. The soil on my property where these Raspberry plants are planted has been full of clay and it only took a couple of minutes of watering to get standing water to pool up. This year, I can't get the water to pool up even after two hours of heavy watering. I noticed that the Raspberry root system is riddled with fine roots and a lot of Mycorrhiza hyphe. I've seen the claims that say Mycorrhiza can change the soil, but this is really a big deal. I had root rot in my Raspberries and it had been progressing up to the time I began treating them with BioVam Mycorrhiza. I have not been able to find any sign of root rot in any of these plants. There is nothing fungicidal or pesticidal in BioVam, so what caused the root rot to go away in my Raspberries? The solution for root rot is to put your plants into raised beds to improve drainage. I didn't have to do that. Yet this soil certainly drains quite well now. There must be something changed in this soil structure to put in place an unfriendly habitat with regards to the root rot. It's well known that Mycorrhiza fungi help protect it's host plant root system. I like those kind of surprises.
Click here to see 1998's Raspberry Pictures.
Click on Pictures to Enlarge.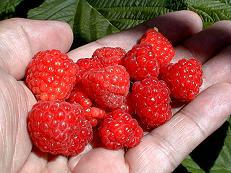 When you bite down on one of these Raspberries, the first thing you notice is how wonderfully sweet they are (19 brix). Then your mouth is saturated with a starburst of Raspberry flavor. The berries are nice and large and juicy. This is the second year for BioVam Mycorrhiza on these Raspberry plants.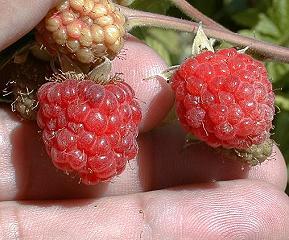 There are larger berries than these present in our BioVam treated Raspberries. Our customers are going to be surprised this year because of the extremely high quality of this year's crop.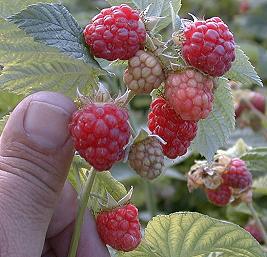 This years (1999) Raspberries are all large sized, sweet, juicy, and plentiful. In the past (before using BioVam) I never cared much for the taste of Raspberries. I have a much different tune these days. The flavor is fantastic!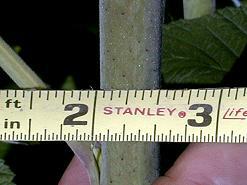 The new shoots this year are mostly around 1/2 inch thick. That's also a new "feature" this year. I'm going to cut those shoots back at a much higher level for next years berry production. So far, most of the new shoots are free standing and have not had to be tied up.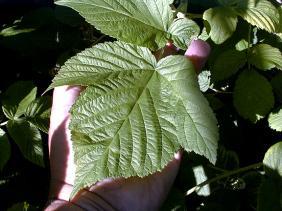 Again, this year, like the previous year, the leaves on the new canes are really large. They will be pumping a lot of nutrients into the plant for next year. I am going to prune the new canes differently this year in an effort to force even more fruit for the next year.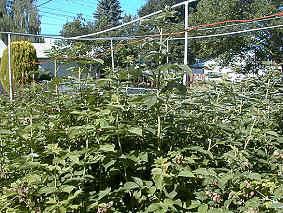 Last year, the new canes were dramatic. In 1999, they are even more so. I'll have to be sure to add Biosol Forte 7-2-1 fertilizer to these berries sometime this year.