Red Winter Wheat Treated With BioVam
11-23-98 - A Red Winter Wheat Experiment using Potting Soil.

Wheat is certainly benefited by Mycorrhiza, so we decided to see what it would do in a simple test in our home. We made some potting soil, added some Biosol Forte 7-2-1 fertilizer to it and mixed in a tablespoon of BioVam Mycorrhiza with one container. We then put in a tablespoon of Red Winter Wheat seed and covered the seed with about a half-inch of our soil in both containers. We have been adding small amounts of water each day equally to both containers.
Click on pictures to enlarge
Objectives of this experiment:

Create a soil mix of 1/3 sterilized soil, 1/3 peat moss and 1/3 vermiculite and add 1 tablespoon of Biosol Forte 7-2-1 to a test and control pot. Water both with the same amount of water.
Add a tablespoon of Mycorrhiza to one pot and plant Red Winter Wheat in both pots. Observe the differences in the root growth and top growth over a period of time.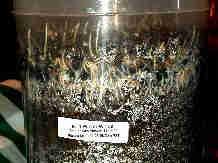 In three days, the roots have made remarkable progress in the test pot. We were not expecting such a dramatic difference in just three days. (11-26-98) Treated Red Wheat above.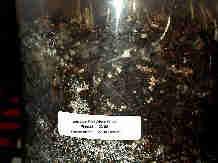 Simple observation indicates that in the first three days, BioVam Mycorrhiza has made quite a difference in root growth. The untreated seed is lagging way behind. (11-26-98) Untreated Red Wheat above.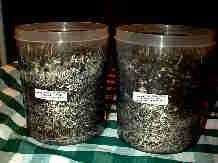 This is just a picture of the two canisters of Red Wheat in the proceeding two pictures. The one on the left is treated with BioVam Mycorrhiza. There is more root growth with the test pot. (11-26-98) Treated on left, untreated on right)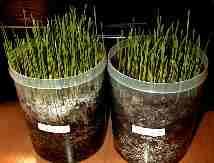 Here are the same two pots. The length of the root growth is comparable, but the expanse of the roots of the Red Winter Wheat test pot on the left, treated with Mycorrhiza, is much greater. (11-28-98 11:30 am pst - 5 days after planting) (Treated on left, untreated on right.)
Product Catalogue

Privacy, Return, Refund Policy

© Copyright 1998 - by T & J Enterprises. ALL RIGHTS RESERVED.