T&J Enterprises
Since 1998
AFFORDABLE ORGANIC GARDENING SUPPLIES

Phone: (509)327-7670 (888)769-3878


Site Navigation Menu
Yukon Gold Potatoes
(Container Grown)


Yukon Gold potatoes:
7 potatoes per plant is normal.. we averaged 19 per plant
Click here for more info on container gardening.
Our Organic Garden Kit: BioVam,
Microbe Tea Brewer, BioMinerals Fertilizer, and Yucca Extract
transform nutrients into a form best utilized by your plants. When that kind of system is put into action in your container gardening efforts, much higher yields can be expected from your potato plants.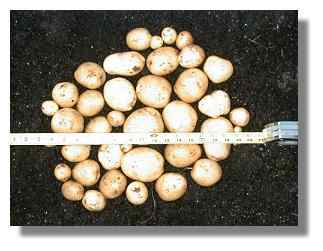 Two Yukon Gold potato plants yielded about 38 potatoes weighing 10 lbs. A teaspoon of BioVam on each seed potato is sufficient. Yukon Gold is only supposed to set about 7 potatoes per plant. BioVam treated Yukon Gold average 19 potatoes per plant. That's a 271% increase in expected yield.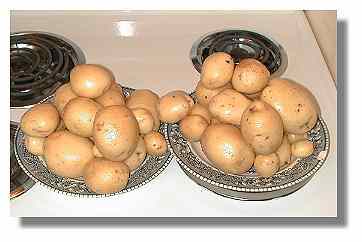 Yukon Gold is considered a gourmet potato. A 5 lb bag can often cost nearly $20.00 in grocery stores.
Shape: Round to Oval, Skin: Yellow, Flesh: Yellow, Market Use: Fresh Market, Medium Maturing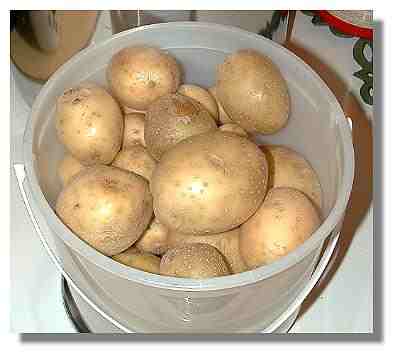 Yukon Gold potatoes treated with BioVam have a better cellular structure and seem to store quite well at room temperatures. Keep them out of the light so they don't turn green.
How to: Mix 4 cups of Biosol Forte 7-2-1 fertilizer and 1 cup of Planters II fertilizer in 1.5 cubic feet of potting soil. Put 3" of potting soil in an 18 gallon container. Moisten each potato and apply 1 teaspoon of BioVam to each potato. Place 2-6 potatoes on top of the potting soil. Cover with 3 inches of additional potting soil. As the tops grow, add more potting soil so only the top of the plant is showing. Keep hilling with potting soil until the plants reach the top of the container. Put a drip line on the container to keep the potting soil moist.
Practical points to ponder:
Yukon Gold flesh potatoes are generally available from July through April. Yukon Golds have a bit shorter availibility span, usually from August through February. Select potatoes that feel firm to the touch, with no bruised or bald spots, cuts, sprouts or green areas. One potato with a soft spot or damaged area will hasten the deterioration of the rest.

Since they have a slightly higher sugar content, gold potatoes do not store as well as russets. They need a cold environment, 40 to 50 degrees F. and 90 percent humidity is optimum. Storage below 33 degrees F will cause the starches to turn to sugar. Store gold potatoes in a paper bag (preferable) or perforated plastic bag in the refrigerator vegetable crisper drawer, away from onions. Use within a week. If you have a cold storage area, you can store the potatoes in a well-ventilated area, being careful to keep them away from any light source. Do not wash before storing as you will remove the protective coating. Lightly scrub just prior to using.

It is true that refrigerating starchy white potatoes promotes the starches turning to sugar. However, the golds have a lower starch content, causing less of a problem. Depending on how long the potatoes have been in storage before you purchase them, some experts say you can remove them from your refrigerator and let them sit in a cool dark place to let whatever sugar has formed revert back to starch. Potatoes with a higher sugar content will brown more quickly during cooking.

Cooked, mashed gold potatoes can be frozen. Pack in a sealed container with 1/2 inch headspace and freeze up to one year. Reheat in the microwave, or over low heat in a saucepan with 1 to 2 tablespoons of milk or water, while stirring constantly.

Potatoes can turn green, yet still be firm and otherwise look fine. These green areas are a result of exposure to light, resulting in bitterness. The green indicates the presence of solanine, which can cause intestional discomfort. When the level of solanine exceeds 0.02 percent, potatoes can actually become toxic. You can cut off small green areas and proceed with your recipe, but if the potato is more than half green, toss it out. Avoid those with green spots when selecting any type of potato.

Health Watch
The more intense yellow color of the flesh, the higher the vitamin A levels, which promotes good vision, healthy skin, and improved immune system. The peel stores goodly amounts of potassium, helping to reduce risk of stroke, as well as vitamin A. So scrub them gently and leave on the peels when cooking. Potatoes also contain glutathione, an antioxidant that may help protect against cancer.

In the Kitchen
The texture of Yukon Gold potatoes falls in the middle between Idaho potatoes and red potatoes. Its slightly lower starch content than the Idaho or russet gives it a combination of mealy and waxy textures. This makes it an all-purpose potato good for just about any cooking process, so feel free to experiment using golds in any recipe calling for traditional white potatoes. Some potatoes turn grayish under certain cooking conditions. Yukon Gold resists graying and in fact will often turn an even brighter color when cooked in high PH (hard) water. Know that the addition of acid to the cooking liquid will cause the gold potato flesh to pale somewhat, just as acid added to white potatoes while cooking brightens the white color.

Gold potatoes are great for those who love potatoes but want or need to avoid butter or margarine. They have a natural buttery flavor built in. You'll also find they require less seasoning than white potatoes.

Fat-Free Gold Fries
Preheat oven to 450 degrees F. Spray a foil-lined (shiny side up) cookie tray with vegetable spray. Scrub potatoes. Parboil potatoes and cut into fries. Dry with paper towels. Whip egg whites to a light froth. Gently fold in seasonings of your choice, such as garlic powder, onion powder, cayenne, etc. Dip fries into seasoned, whipped egg whites, shaking off excess, and spread evenly in one layer on cookie tray. Bake at 450 degrees F. for about 30 minutes until lightly golden, flipping fries halfway through cooking time. Sprinkle lightly with salt, cayenne pepper, or one of the new powdered bouillons. Serve hot.
History: Yukon Gold is an early maturing cultivar, released in 1980 by Agriculture Canada, University of Guelph and the Ontario Ministry of Agriculture (American Potato Journal 58:241-244, 1981). Yukon Gold was tested as G666-4Y. It is the result of a cross between Norgleam and W5279-4. Yukon Gold is an attractive, yellow-fleshed, potato cultivar. Primary use is for the fresh market. It is particularly suited for baking, salad and soup. Yukon Gold may process if fried directly from the field, but not following cold storage. It is widely adapted in North America and performs very well in the San Luis Valley.
Plant/roots: Plants emerge quickly with a medium, upright vine, and a slight tendency to spread as maturity approaches. Vines exhibit a purplish pigmentation, particularly in lower foliage. Flowers are pale, red-purple and not overly abundant. Yukon Gold has a determinate growth habit. The root system is somewhat compact.
Yukon Gold and Leek Soup
Ingredients
4 large leeks (white bulbs only)
2 tablespoons cider vinegar
1/4 cup (1/2 stick) unsalted butter
1 onion, thinly sliced
4 Yukon Gold potatoes (about 1/2 pound each), peeled and thinly sliced
4 cups defatted chicken broth, preferably homemade
2 teaspoons fresh lemon juice
1-1/2 cups milk
2-1/4 cups heavy (or whipping) cream
Salt and freshly ground black pepper, to taste
6 teaspoons American golden caviar, for garnish
1 bunch fresh chives, snipped, for garnish
1/2 cup sour cream, for garnish
Instructions
Trim the roots from the leeks, and cut a 1-1/2-inch deep "X" through the top and bottom ends of each bulb. Place the leeks in a bowl, add the vinegar, and cover with cold water. Let soak for 20 minutes to remove any sand from the leeks. Drain, and rinse well under cold water. Thinly slice the leeks crosswise.
Melt the butter in a heavy soup pot over medium-low heat. Add the leeks and onion. Cook, stirring occasionally, until wilted, about 15 minutes. Add the potatoes, chicken broth, and lemon juice, and bring to a boil. Then reduce the heat to medium and simmer for 20 minutes. Partially cover the pot and simmer, stirring occasionally, 20 minutes more. If the soup boils, further reduce the heat. Remove it from the heat and let it cool to room temperature.
Process the soup, in batches, in a blender or food processor, pulsing the machine on and off so that some texture remains. Return it to the pot, and add the milk and 1-1/2 cups of the cream. Season generously with salt and pepper, and heat over medium heat just to a simmer. Do not boil. Remove from the heat and cool to room temperature. Refrigerate, covered, overnight.
The following day, stir in the remaining 3/4 cup cream. Cover and return to the refrigerator until ready to use. Serve chilled or hot, garnished with caviar, chives, and a dollop of sour cream.
Yield: 6 servings
Credits
From: Sheila Lukins U.S.A. Cookbook by Sheila Lukins (Workman Publishing)
Happy Gardening with our product ideas!
Product Catalogue

Privacy, Return, Refund Policy

© Copyright 1998 - by T & J Enterprises. ALL RIGHTS RESERVED.